Or maybe we should call this the post with the longest title! Ha!
My art journey is slow and steady. I do not get to do art as much as I like this year but whenever I find pockets of time, I try to do one piece. To keep the inspiration burning, I try to immerse myself in the creative world by visiting museums and exhibits in between leisure and work trips. I also try to observe my surroundings, be in the moment and find inspiration around me.
I found that pocket of time in August, right after my trip to Baler. This idea has been brewing in my head for some time. I wanted a piece of my own art in my own wall. I already bought my A1 size watercolor paper in June. My plan was already in motion. To visualize an A1 paper, it is 8 times the size of an A4 paper. Arrange two rows of four A4 paper in portrait orientation to get an A1 size paper.
So for a size that big, what should I paint? No question, it has to be something botanical. I have files of plants and flowers I wanted to paint. I always check those files for inspiration. I decided on succulents because it is an ode to my inability to grow them. I have tried growing them several times before. They always die. Painting them is the best alternative.
Painting a large piece requires me to allot space in my dining/office table.
Painting is really therapeutic. It feeds my soul so I always take my time. I do not hurry. It is a pleasurable experience for me so I savor the moment. (Ang drama ko! Haha)
What I enjoy most about painting succulents is that there are different varieties. It was an exciting process to paint the details of the different varieties.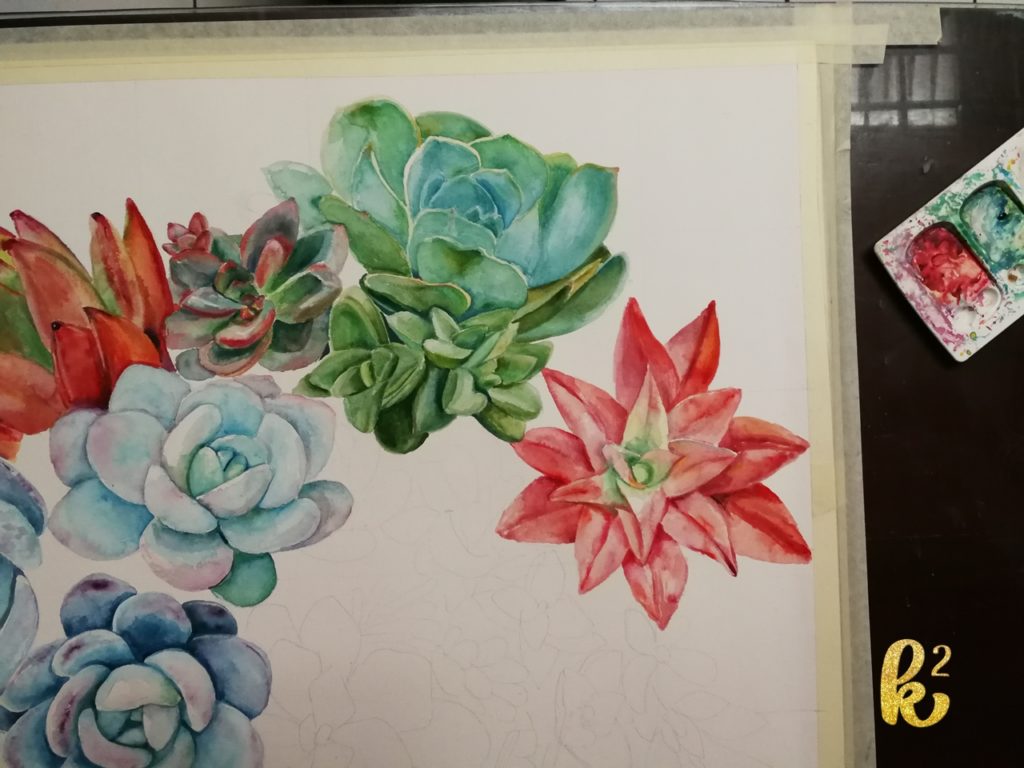 Painting can be a cerebral process when you try to decide how you are going to add depths to the piece and where to add those specks to show texture and dimension.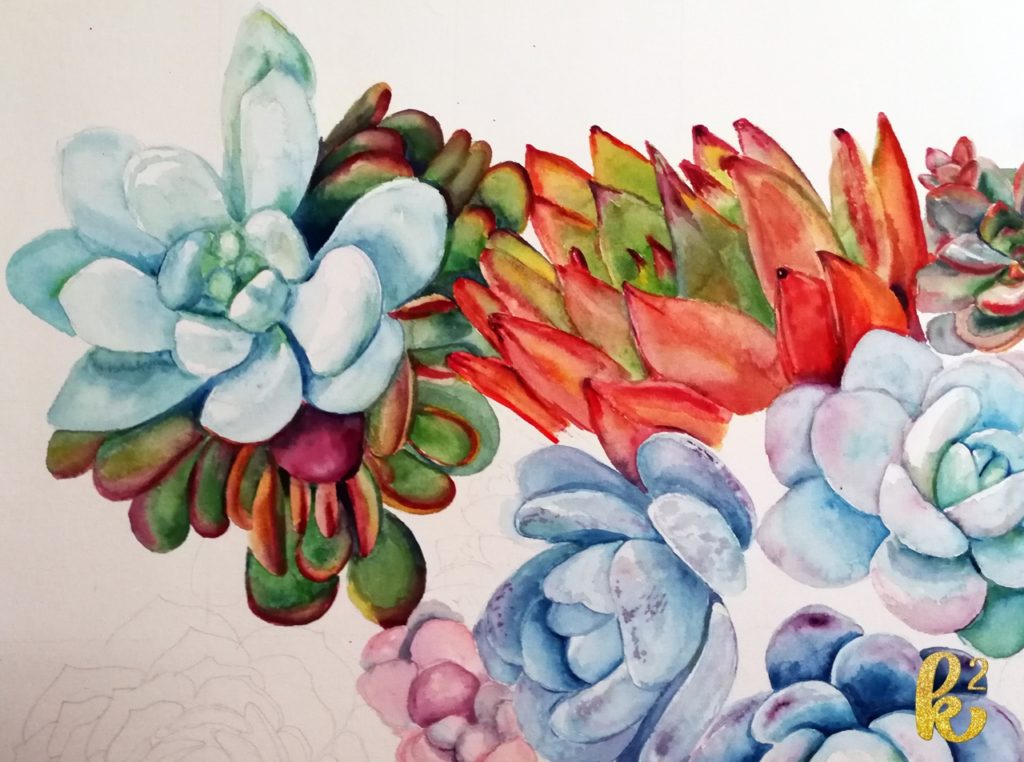 Painting is an exercise of planning skills. Since I taped the edges of the paper unto my table, I covered the piece with sheets of bond paper every time I was not working on it. I always emptied my water cup and placed my palette away from the table to avoid mishaps. (Imagine this scenario: a lizard walking on my palette and over my painting. I do not want that to happen.)
I also used these pieces of paper to cover painted areas to prevent myself from touching those areas.
Painting tested my EQ, which I know I barely have. My initial plan was just to finish this with a white background. This is supposedly the finished painting.
But no matter how I want to avoid mishaps, this happened. No use crying over spilled paint, right?
So I added other details little by little.
I added more succulents until I was finally done with this finished piece.
I sent this to the framer and I finally have my own painting in my living room.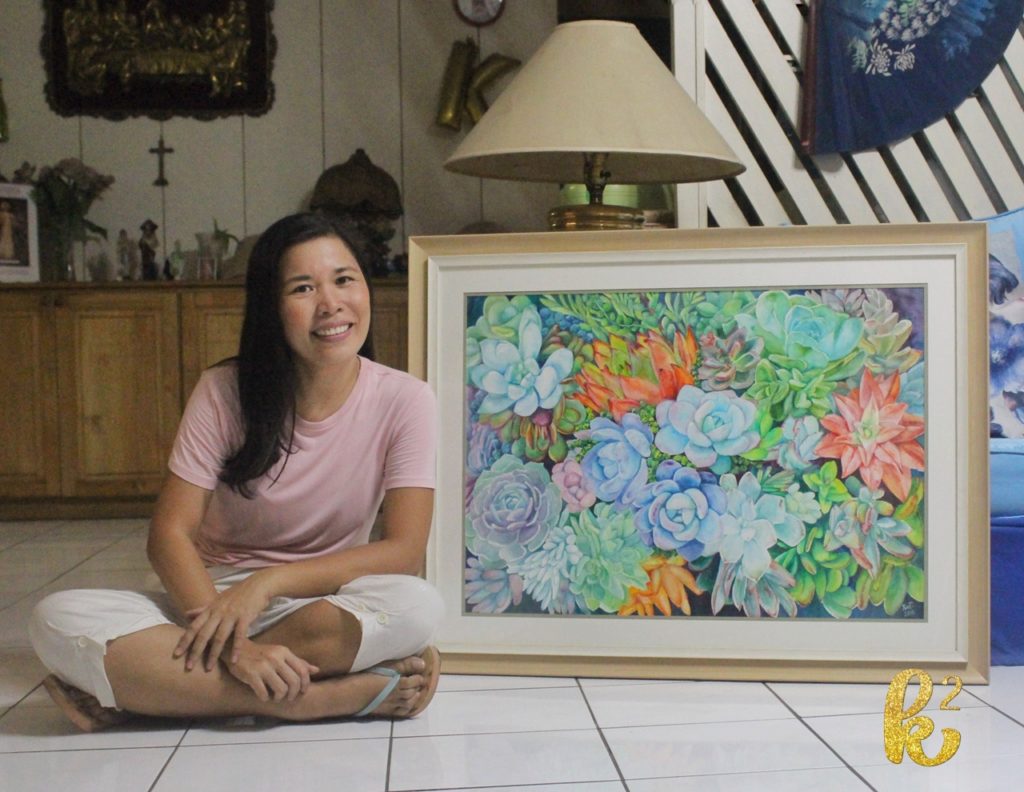 Well, not quite.
Since this is a watercolor painting on paper, this was framed behind a glass to protect it from the elements. Large painting + glass= heavy painting. So I kept the painting on my sofa reinforcing it with pillows. I was still trying to figure out how to hang this heavy painting. I thought of buying brackets and additional screws but I was not able to find time to go to a hardware store.
Let me say that painting can be a test for AQ- Adversity Quotient. I recently learned about AQ from my smart friends. An adversity quotient is a score that measures the ability of a person to deal with adversities in his or her life. I must admit that I have a really low EQ but I think I have a reasonable AQ score.
So here is the story. The painting had been sitting on my couch for weeks. My aunt kept asking me when am I going hang my painting but I was busy so I never had time.  One fine Sunday, my friends came for a visit. We were waiting for another friend.  (I feel like I am writing a blind item of some chismis column! Ha.) When the friend came he/she went to sit on the couch.  Our dog, Christian, was barking hard because he saw a new face. I directed him to smell the new visitor so he would feel at ease but instead of smelling, he jumped at the visitor prompting the visitor to lean back. Then I heard the cracking sound of my breaking heart chos of the glass.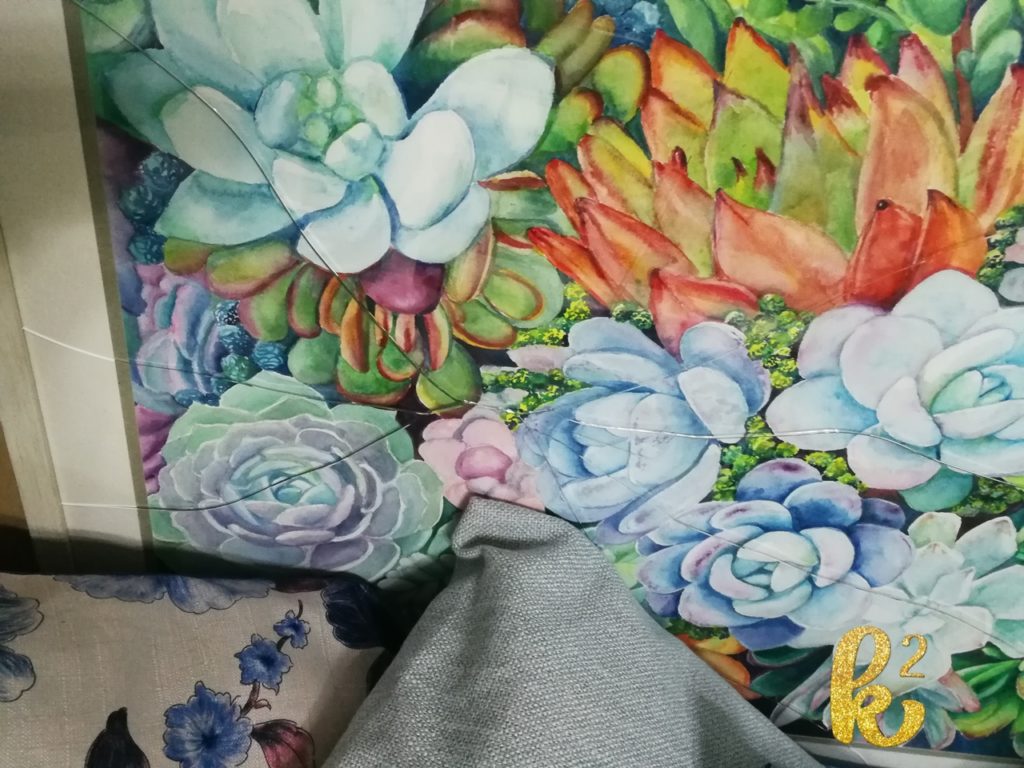 I looked at my friend's back and I saw no blood.  I was relieved.  My friend was apologetic. I told my friend not to worry about it too much as I do not have attachment to things.  Attachment to people, yes.  Chos! (Notice my effort of not identifying my friend.)
This is where my high adversity quotient comes in. (Buhat sariling bangko moment?) It was easy to just have it re-framed but I would still have the same predicament as before. How do I hang the heavy frame? Many watercolor artists have the same dilemma as me. How does one frame the painting without the glass? Glass is heavy and it adds glare when you tried to view the painting. A quick Google search led me to a painting technique- apply cold wax. Cold wax is a substance often used to oil paintings as a medium and sealant. Apparently, you can use it for watercolor paintings.
So when I went to Japan, I looked for cold wax from an art store there and they did not have it. When I went back to Manila, I also went to Fullybooked and Art Bar but they did not have it.
I finally found an online store that carries it. Yay! I also bought a fixative as a backup. I had work for the month of November so the wax application was put on hold.
Finally I found some free time in the first week of December so I worked on applying the wax. At first, I used a cleaning cloth to apply the wax but it seemed like the product was absorbed by the cloth .
So I used the best tool in the world- my hands. It really was easier to use my fingers because I could feel which part of the surface still needed to be waxed.
Waxing made the colors pop and it protects the surface from the elements. Plus, I did not have to buy brackets. The painting was light and easy to hang.
Look at that!
I have finally decorated my living room for Christmas and hanged my painting!
All's well that ends well.