My friends and I have this unwritten agreement to travel together every year. The last time we traveled in a huge group was in 2015. The same group agreed to travel to Batanes this year but it never materialized. I had work last year that I never had time to arrange trips for this year so I figured that the best way to get them together was to schedule a trip that does not require plane tickets. I had Sohoton and Siargao in mind. Alas, I scheduled it on a summer where many of them have office summer activities that are also in Siargao. In the end, there were only four of us traveling to Sohoton.
Then, three of us were left to travel to Siargao. Yes, three introverted individuals who do not like crowds and would love to be left alone to explore. Yes, it can be done. And yes, the trip can still be fun.
Day 1 to Day 2
We started our journey in a van to Bad-as, Placer, Surigao del Norte. It was funny that the 3 introverts (and agoraphobics!) found themselves inside a van with 12 strangers. It is the only way to reach Surigao a little faster. A van ride would take us around 2 hours to reach Bad-as while a bus ride would take around 3 hours. In Bad-as, we met our 4th travel buddy, Bryan, and we rode in another van together going to Hayanggabon Port. In Hayanggabon Port, we were met by the boatmen from Cinnamon Island.
Our trip to Sohoton in Bucas Grande was already pre-arranged by Bryan. An overnight stay in an air-conditioned cottage, 4 meals, island hopping tour and boat transfers (to port) cost us Php 3,200 each. We would have gotten a cheaper rate if we were traveling with a bigger group but we all felt the fee was all worth it. It was a stress-free time in Sohoton. The boat would wait for us. The sumptuous food would wait for us. Everything was ready. I remembered us saying, "I hope there is food. I am already hungry." By the time we went down to the dining table, the food is already waiting for us. Five-star service. We highly recommend Cinnamon Island in Bucas Grande.
So what did we do in Sohoton?
Island hopping! We docked in a beach full of people so we asked the boatmen to find us another beach. So here we were! There were no other people but us in this beach!
It was that easy to find our own beach here.
Buried our feet in the softest sand.
Swam with the jellyfishes.
Swam inside the cave
Jumped. My friends jumped. I made an excuse that I would be the one to take their photos.
Spelunking. We went inside the Crystal cave whose stalactites and stalagmites were covered in crystals. They shimmered when they caught light.
Ate fresh and yummy seafood!
We had early lunch on Day 2 and we immediately asked to be dropped at the Socorro port to catch the boat trip to Dapa in Siargao. The boat ride from Cinnamon Island to Socorro port took us more than an hour on a large pumpboat. From Socorro, I think it took us almost an hour to reach Dapa. I was seated behind the captain of the boat. The sea was a little rougher than what I was used to. I felt seasick and was trying to keep my cool until my body gave in. I felt my lunch in my mouth and was trying to hold the food in while I patted the captain's shoulder and motioned that I need a plastic bag. He hurriedly gave the plastic bag he had, unpacking his extra shirt inside. I threw up my lunch like a pro that I am. ( I have motion sickness so I am used to throwing up without much fuss.) My friends were unaware of what happened. I was that discreet.
From Dapa, we rode a tricycle to General Luna where we were booked in an Airbnb cottage. The cottage was perfect for the island vacation we imagined. We took turns in having our picture taken in this hammock!
We had our dinner at Kermit's since it was highly recommended in many reviews we read.
After that, we called it a day.
Day 3
In this trip, we just list down the activities we wanted to do and just find ways to do them; no advance planning on where to book tours. We wanted to go to Magpupungko but we did not research tide forecast beforehand. One must go to Magpupungko during low tide so we opted to go to Sugba Lagoon instead. Sugba Lagoon is in the Municipality of Del Carmen. Many of the blogs we read said that the mode of transportation was through a habal-habal, a motorcycle with roof attached. While many drivers can accommodate the 3 of us in a motorcycle, we chose to hire a tricycle. An hour-ride on a motorcyle with 3 other people would be uncomfortable. Yes, we love adventure but we also wanted comfort. The tricycle ride cost us Php 1600 roundtrip. To reach Sugba Lagoon, one needs to hire a boat at the municipal tourism center. The ride costs 1600 per boat. We passed through a large mangrove plantation, the second largest in the country.

We reached the lagoon and there are already tourists ahead of us which aggravated the anxiety of the introverts! So we looked for a table and just observed the crowd. We waited for the area to be less crowded.

So what did we do in Sugba Lagoon?
Jump! Oh well. My friend, Arnel, jumped while I did what I do best- document the jump.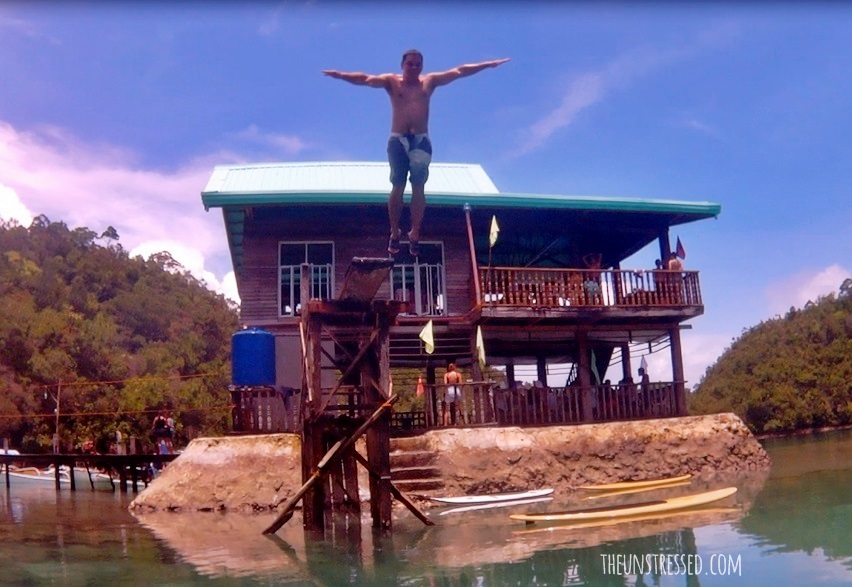 Stand Up Paddle. Because we were non-swimmers, we wore lifejackets!
Swim. I just watch people swim. There was intermittent raining when we went.
By the way, be careful with the pathways when wet. They were slippery. I slipped, I fell flat on my back. Thanks to my natural cushion (read: big butt) I only got a bruised ego. Ha!
We left early so we still had time to catch the sunset at the boardwalk in Cloud 9. We took a short cut from our cottage to the main road but it turned out to be a farther route to the boardwalk.
The mistake led us to this shore which was a nice detour.
After walking miles (it felt like that), we are finally here! Ha!
The introverts picked a floor in the deck with less crowd and watch the sunset and the surfers.
When evening came, we went to Mama's Grill for dinner and then headed home to our rented cottage.
Day 4
We already arranged with the tricycle driver we hired the previous day to get us to Magpupungko. We planned to go to Magpupungko in the morning and go island hopping in the afternoon. Our tricycle driver suggested that we drop by Tayangban Cave Pool since it is along the way to Magpupungko. We were glad we listened to our driver because we enjoyed our time there. Entrance to the cave pool is only Php 70 per person and there is a guide who will help you navigate though the cave system. I really enjoyed this activity. I would say this is Siargao's best kept secret.
Look at our beaming faces!
Once we were done with the spelunking, we were off to Magpupungko.
I love Magpupungko. In Magpupungko are tide pools left by the ocean when tides are low. Sea water and creatures are trapped inside the natural pools. My camera batteries needed recharging so I was not able to take my own photos in Magpupungko so I swiped off Arnel's photos. ha! Enjoy!

We enjoyed out time there. We left when more people started arriving. Ha! Introvert problems.
Off to island hopping!
Our driver already arranged our boat for island hopping. It cost us Php 1,500 per boat. We will be visiting three islands: Naked, Dako and Guyam. Since we have not eaten our lunch yet, we bought pizzas from Aventino's before going island hopping (there is so many branches in Siargao) which we ate at Guyam. We spent a lot of time swimming in Guyam.
It was already late in the afternoon when we decided to end our island hopping journey.
For dinner, we ate at Bravo. It was suggested by our Airbnb host, Martim. I love the vibe there.
After dinner, we headed back to our rented cottage to pack our things.
The following day was a long day. We spent the day traveling. We needed to go to the port in Dapa early to get tickets for the boat ride to Surigao. The boat left Dapa at around 11 am and we arrived Surigao past 1:00 pm. We were met by our friend, Bryan, for lunch. We also met up with friends while in Surigao so we left Surigao at around 4:00 pm and arrived Butuan past 7pm.
Some notes on the trip:
1. We love the services provided by Cinnamon Island in Sohoton.
2. We love our Airbnb cottage. I left a review on Airbnb and the host gave his feedback. He said that we were a nice group, very relaxed and independent. Ha! This clearly shows that we are introverts. We just like to be left alone. Hehehe
3. If I have the chance to go back to Siargao, I would skip Sugba Lagoon but I will still go back to Magpupungko. I learned from a friend that one can do Stand Up Paddle near the mangroves in Cloud 9. I will do that instead.
4. I made a mistake of renting a paddle board at the tourism office in Del Carmen. There are paddle boards for rent at the lagoon at a cheaper rate.
5. It used to take us 2 hours to reach Surigao from Butuan by bus. Now it takes 3.5 hours.
6. We did not choose the cheapest rates in the Siargao. Instead, we chose the hassle-free and most comfortable options we can afford.
7. Siargao is also a party place. Our friend, Bryan, would encourage us to go out at night and find the venue of the party of the day but the introverts just wanted to chill in the cottage and fiddle with the gadgets.
Here is our itinerary and the amount we spent on some of our activities:
** entire tour package: Port transfer, island hopping, accommodation, 4 meals, welcome snack and drink
*** Habal-habal ride within General Luna costs Php20 per person
**** I forgot how much we spent for food. We are all foodies so we really do not scrimp on spending for food.
***** I also forgot how much the bus ride cost.
Three days and 4 nights in the Airbnb Cottage cost Php 4,115.
Total trip cost: At least 7,788.33 per person (Food in Siargao was unaccounted because I forgot how much it cost us.)
It was an exhausting trip back home but I will take the trip again in a heartbeat if I get invited to go to Siargao.
If you have not been to Siargao or Sohoton, you must visit soon!
Some photos were taken by my friends, Bryan, Arnel and Gail. Thank you for being my cool travel buddies!
Btw, send me an email if you want a link to Airbnb which will give you discount on your first booking.
Oh, this is my travel video of that trip. Enjoy!