August was a busy month. I did not have time to blog and if you look at my list of blog topics to write about, I have 12 items pending on my list. However, I promised myself that no matter how busy I am I should have at least one blog post a month and that would be the gratitude list.
A busy August meant I was productive. I thank God for the opportunities that came along my way. I thank the people who allowed me to be part of the projects, trips and gatherings for this month.
Let me run down the things I am thankful for for August.
1. Dinuguan. This Filipino food is one of my comfort foods. My late mother cooked a mean dinuguan and the person she taught how to cook visited so we took advantage of her being around and asked her to cook diniguan. Sorry I do not have a picture. It was that good that I forgot about everything. 😉
2. Meeting that went well. There was so much preparations I needed before the trip and I did not know if I was doing it right.  The meeting gave me a clearer picture of what needs to be done.
3. Report submitted as promised. I had a trip the next day but I was still doing the report for another client. It was crunch time for me since I still need to pack for a week-long trip.  In times like this, you just need to focus. It is not a good time to panic. You just have to do it and you will be surprised that things can get done.
4. Escaped Manila traffic. I arrived Manila during the day when there was an 8-car collision and every Manila-based friend lamented on  Facebook being stuck for at least three hours on the road. I traveled light so using the MRT was a breeze. What I did not escape from was the heavy downpour in the afternoon on the way to a meeting. Thank God, my boss fetched me near the MRT station.
5. Tim Ho Wan. My friend raved about  this 1 Michellin star restaurant that I just have to try. The pork buns are divine.
6. Visiting Myanmar. As of January 2014, Filipino tourists are allowed to entered Myanmar visa-free for 14 days. This is the view from my hotel room.

7. Stress-free day. I thought we had so much to do today but I did not experience the stress associated with it. I do not know about those in the streets. Myanmar is slowly developing and does traffic follow development?
8. Shwedagon. Myanmar is known for its political struggles, gems and pagodas. We visited the mother of all pagodas in Yangon, the Shwedagon. I walked barefoot in the rain (with umbrella, of course) to tour its vast complex. More stories about Myanmar in a future blog post.

9. Bogyoke. This is Yangon's shopping area. I was able to buy souvenirs here. Oh my! Gems are also sold here. Those gems are beautiful. I do not wear jewelry but I love art so I saw intricate art when I looked at those pieces of  jewelry.
10. Yummy dinner. We had a lovely Chinese dinner courtesy of my boss.
11. Home bound. We went home thankful for all the experiences in Yangon. We are humbled by the strength and resilience of Burmese people.
12. Home sweet home. This greeted me home. Frozen durian tasted like creamy custard. Yummy.
13. Kare-kare. Lani cooked a mean kare-kare.
14. Viber. I now have Viber so I can regularly get in touch with some friends this way.
15.  Time. We did some prep work for the following day's activity.
16. Generous friends. My friends shared their blessings with some orphans.
17. Road trip. There are 86 barangays in Butuan City and I have never been to each one of the them. My friends and I took a trip to one of those barangays. This is Tungao, Butuan City.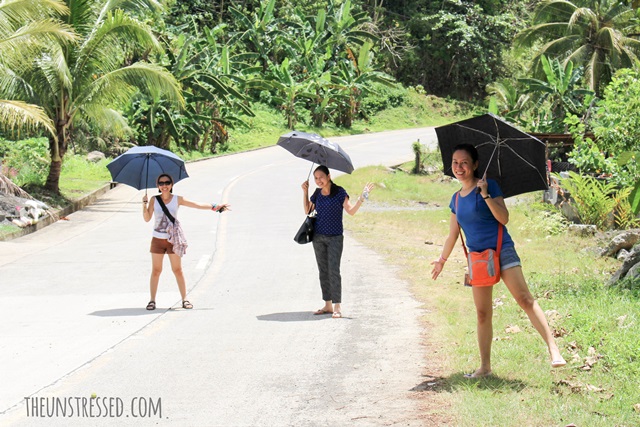 18. Fiesta. There was another reason to gather with friends.
19. Energy. There was a trip coming up and I needed to allot time to do errands before I leave
20. Perseverance. I had a deadline and I did not sleep the whole night. Maybe, I had some catnaps but I was up all night. I was glad I was able to finish the task.
21. Trip. It was the start of the annual trip with friends.
22.  Breakfast. After a plane ride and a long 11-hour bus trip, we arrived at Tuguegarao City. Our first goal was to eat Pansit Batil Patong. Their serving was huge. I was not able to finish my meal.
23. Palaui. The reason we wanted to go to Cagayan Valley was to visit Palaui Island. Beautiful place.
24.  Fun food. I saw this on my friend's Facebook. I could not resist ordering the pair for myself.
25.Catching up with friends. I had one day to spare in Manila.  I used the time to meet with my friends.
26.  Home. I am always thankful that I got the opportunity to travel. It made me appreciate the world around us and the little place I call home. Home is the place I am most comfortable.
27.  Firefighters. There was a fire in one department store in city. The place burned down. Thank God no one was hurt and only that place burned down .
28. Art. I miss doing art so I settled for a quick digital art to allow my right brain for some exercise.
29. Surprises from nature. I saw this metallic bugs in a shrub near our house.  I found them interesting and pretty.
30. Movie time with Tita. It has been awhile since we last watched videos together. This was our setup.
31. New place. My friend invited us to their fiesta. We grabbed the opportunity to do so. This is Lawigan, Tubay, Agusan del Norte.
Thank you, God, for a wonderful August. September is my birthday month and I thank my BCBlogger friends for the early greetings. I will find time to catch up with you guys!