I traveled to Taiwan with a foodie so I really did not have to worry where to eat. My friend, Gail, already had a list of places to try. We agreed that we would be flexible with the choices. We also wanted to save time. Gail's list was more of a guide and not a fixed itinerary. We agreed that if we happen to be around that area in her list we would try the suggested dishes. On this trip, there were hits and misses but, nevertheless, we were happy eaters.
This list is actually the 15 food places we tried in Taiwan. I took photos of almost all of the food we ate so this post just brings back yummy memories of that trip.
Here are the 15 food places you might want to try in Taiwan:
1. Fu Hang Dou Jiang
As soon as we arrived and stored our things in the MRT lockers, we trooped to this food place in Gail's list. It was not hard to find because the moment we walked out of the MRT exit to Shandao Temple we saw the line outside the HuaShan Market. The line was long. The end of the line was around the corner and the food stall was still on the second floor of the building. We lined up anyway. (Both Gail and I graduated from a university where long lines during enrollment was the norm then. All those four years of patiently lining up for registration were not in vain. Ha! Patience, indeed, is a virtue we both acquired from experience. )
Gail was the one who ordered the food. There was no English menu so she just pointed her order hoping she got a good one. It was like lottery. I guess she got a jackpot. We got a hot soy milk dish, a cold soy milk dessert, an egg dish and bread.
We thought we should have a similar dish in the Philippines since we are all fond of taho. It was yummy. Judging from the crowd, the place was a hit. What amazed me was that Fu Hang Dou Jiang was established in 1958. I wonder if these lines were this long since 1958.
2. Convenience stores
7-Eleven and Family Mart were everywhere. We made it a point to check out what they had to offer. I think Gail bought as many milk teas as she can bring to her family back home. I only bought a regular coke in a can with a cute cherry blossom design. We realized too late that it was expensive. I could have picked some milk tea instead.
3. Sukiya.
This is actually a Japanese food chain. There was a branch near our Airbnb rental so it was easily our breakfast place when we want to eat a quick meal. Sukiya has a breakfast menu so we just chose from the selection. We also observed what the Japanese patrons ordered and it seemed they also chose from the breakfast menu.
4. Fu Long Boxed Meal
This was part of the free lunch in our Klook tour to northeast coast of Taiwan. The box contained pickled veggies, tofu, braised pork, egg, sausage and rice. It was already a complete meal.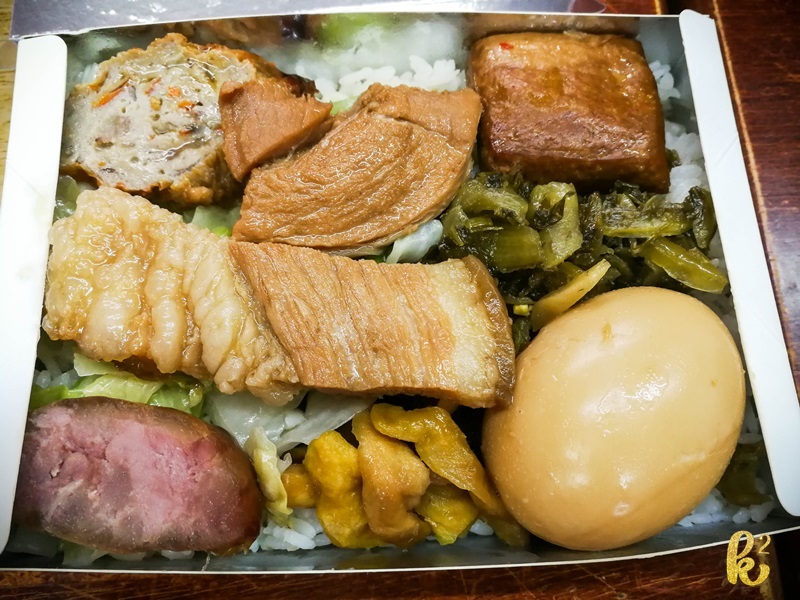 5. Ikea food court
Gail and I both agreed that we should visit Ikea. I wanted to check out their different showrooms where I could see how different spaces are being decorated with Ikea products but, alas, the Taiwan store did not have that showroom. Nevertheless, we were happy to fill our tummies in their food hall. I got the Swedish meat balls and Gail had the salad. We shared the dessert and fried chicken. And for some reason, I wanted to eat waffles.
6. Random breakfast place
We were very early in Ximending because we were afraid that the tour bus might leave us if we get lost and arrive late. We did not. The meeting place was easy to find. Since we had ample time, we searched for a place where we could eat breakfast. We found a small eatery that served sandwiches. It was yummy and was enough to fill our empty stomachs.
7. Jiufen food stalls
It was raining and time for lunch. Food stalls were full. We were hungry. We immediately chose the first stall with available seats for us and ordered whatever they were offering. We got noodles and meatballs.

Then we ate along the way. We got peanut ice cream roll and fried mochi.
8. Shifen random food stall
We did not fly lanterns in Shifen so we looked for a place to eat. We found this eatery and ordered noodles. it was still raining and a bowl of soup was comforting. That fried taro roll is yummy, too.
I got the beef noodles while Gail got the wanton noodle soup.
9. Yu's Almonds
We were dropped at Ximending at the end of the tour. By that time, the shops around the area were already open. We found Yu's Almonds by chance which was in Gail's list. We got a hot almond milk type of dish with some herbal jelly drink.
10. Ningxia Night Market
Taiwan is known for its night markets. We specifically went to Ningxia for the food finds in Gail's list. For some reason, we could not find the stall on her list since we only had the photo and not the name or the exact location. We just chose a random stall and picked a dish. We took a selfie but later we found out that a passing Taiwanese guy photobombed out shot. Funny.
We also tried some fried potato balls with salted egg in the middle.
11. Mos Burger and Matcha Latte
It was another early day and we were at the train station without breakfast. We wanted to secure our ticket first. Once we got our tickets and schedule, we grabbed something to eat. This time we chose Mos Burger which I learned is another Japanese fast food chain. We also grabbed a macha latte from 7-11 which we loved.
12. Red Bean Tofu Dessert at Zhong She Flower Garden
If you watched my Taiwan video, you would know that we walked from the train station to the Zhong She Flower Garden. All that walking made us hungry so we dropped by this small eatery near the garden entrance. If you're Filipino or have tasted taho, this dish was like cold taho with red beans.
13. Japanese Restaurant at the Taichung Train Station
It was past lunch time. We were hungry so I was not able to remember the name of the restaurant. Put me in a Japanese restaurant and I would most likely to order ramen if it is available. So I got ramen while Gail got some tomato-based soup. This was yummy.
14. Ximending Night Market
We were trying to follow Gail's list. We only got to try 3 dishes and we called it a night. Shocking. We were looking for the stall with colorful drinks but we were not able to find it.
A long queue is an indicator of good food so expect us to exercise our lining up skills. This is Ay-Chung Flour-Rice noodles. They served flavorful noodles with pig intestines. Gail loved it. For me, it was okay. It was filling and it reminded me of a flavorful home-cooked sotanghon.
We also had this mashed potato topped with corn and bacon bits that was swimming in cheese sauce.
We found a bench and we devoured this sinful goodness.
We also got a barbecue-flavored fried mochi.
15. Great Food Town- Airport Food Court
I spent 4.5 days in Taiwan and I thought I would be chugging bubble tea everyday. It was not the case so I made it my mission not to leave Taiwan without trying bubble tea so I really looked for it at the airport before we left. Mission accomplished.
These were the different dishes we tried in Taiwan. We looked like we ate a lot but we really wanted to eat more. We missed the good xiao long bao near the Chiang Kai-Shek Memorial Hall. We were in a hurry when we visited the place. We also missed the shaved ice dessert on the list. We also planned to hit the original Din Tai Fung and the quirky Modern Toilet; we just did not have the time. Oh, well, there is always the next time.
Till next time, Taiwan!