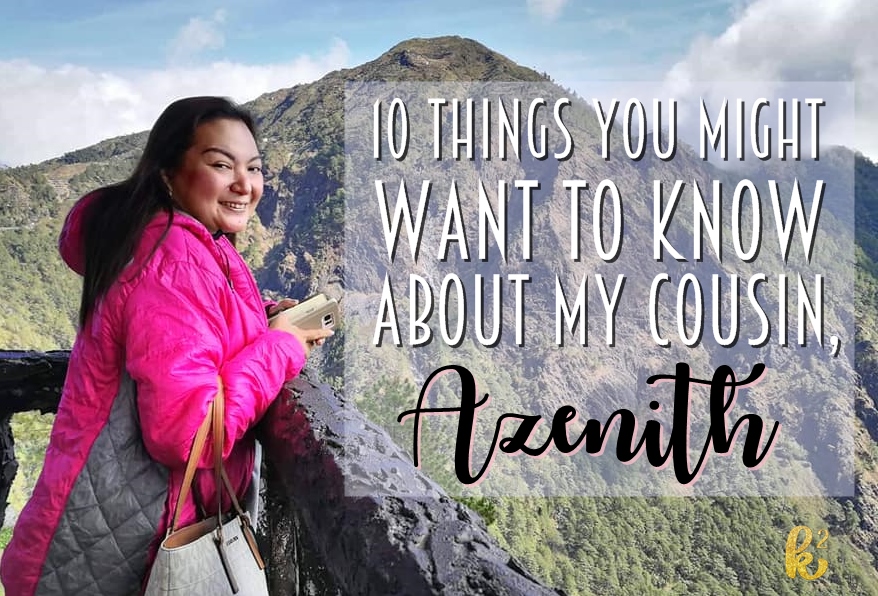 My cousin, Azenith, is celebrating her 42nd birthday today (April 16) and it is only fitting to honor her on my blog. She is one of our heroes. She has been on the frontlines in this fight against COVID-19 in my city- even before the quarantine started. I am proud of her and scared for her at the same time but knowing how strong-willed she is (paired with thepower of prayers), she will pull through. I won't be seeing her today or else she'll be the first to have me pay fines for violating quarantine rules. I hate paying fines (or worse, be in detention) so this little tribute (or roast, whichever my thoughts lead me) is my little birthday present. We will celebrate when this pandemic is over (probably on my birthday! hahaha).
I am writing this with the assumption that our common friends are reading this. Here are the ten things you might want to know about Azenith:
1. She is my first friend in the whole wide world. We were born 7 months apart. Yes, I am the older one even if sometimes it is not obvious because of her maturity in her actions. She can carry herself well like the professional that she is while I remain the family's introverted weirdo.
2. I am always her "Ate" (big sister). I am an only child so she is my closest thing to having a sister. We are actually first cousins. Her father and my mother are siblings. But we always treat each other like sisters. Whenever she talks to someone about "Ate", most likely, that "Ate" is me. When we were little, I also made a big fuss that she should call me "Ate". Only 7 months older and I demanded to be called "Ate". What a diva! Ha! My mother's siblings did not even call her "Ate" even if some of them were more than 10 years younger than her.
3. I am her biggest bully. Because I am the older one, I got to boss her around. There were countless of times that she suffered under my childhood superiority complex. At one time, we had a fight and in retaliation, I went to her closet and got all the nice hand-me-down dresses I gave her. What a mean kid this Ate of hers! Now that I am older (hopefully, wiser), I would willingly give the dresses she likes from my closet. (Because there are only few of those that she fancies and we do not have the same size for clothes. Ha! She also gives me clothes she thinks I would wear. )
4. She was a Milo-holic! She sold her loyalty to me for a bottle of Milo! When we were kids, she visited us in Magallanes where my family used to live. She was supposed to be spending a long vacation there. We planned on playing all day, all the time. Plus, Mama was a stay-at-home mom then so we had yummy snacks every time. Alas, I got sick. I had a fever. Mama asked Papa's co-worker to accompany Azenith back to Butuan for fear she might get the fever also. Azenith would not go no matter how we convinced her. She did not mind getting sick with me. What a loyal cousin, right? When we told her that she could bring a bottle of Milo with her on her way home, without batting an eyelash, she said yes! Hahaha Milo should pay her for her loyalty.
5. She was the prettiest girl I know. She was always this pleasant and charming kid who was a friend to everyone while I was the grumpy kid that everyone tiptoed around. Now, she holds the title of being my most beautiful cousin. (Hilly, you will always be the sexiest.)

6. She is smart. As kids, we took an IQ test and she was in the above average range. She may not be as studious as I was but she can retain important concepts that are necessary in practical life. Never mind if there are spelling mishaps and grammar mistakes when she writes or the fact that I am her lifeline in anything that deals with numbers, everyone listens when she speaks. When she completed her nursing degree in March of 1999, she took the board exams in May of 1999 and passed. She disproved the notion that she's all beauty and I am all brains. (Pwede sab baliktad uy! Nalain ko! Ha!)
7. She is a woman of many talents. She sings well. She has no stage fright. She can cook well. She is a good makeup artist that one day I asked her to teach me how and now I get compliments that I know how to apply make-up. (Need na ni ate, di na masaligan ang natural beauty.)
8. She is one hard working woman. Life's successes are sometimes dependent on the cards we are dealt with. She had bad cards but she powered through. She works full-time in an exhausting government job and when she gets home, she works online as an ESL teacher because it is hard to rely only on a salary that is dependent on contracts and bureaucracy. Yet no matter how exhausted she was, she would cook for us whenever I asked her. I am glad that we took that trip early this year. This girl badly needed a break. Given her workload now, I hope she will also be able to relax soon.

9. Her confidence is something I can only aspire. She speaks her mind. She participates in various activities to the best of her abilities-be it a simple production number, skit, report, workshop or as mundane as flower arranging. In today's millennial language, she is so extra. She does everything with pizzazz and she is not afraid to commit mistakes because she can always correct them. Nobody's perfect anyway. I remember she would readily put her hands up in the air to answer a question of the teacher even if she is not sure her answer is right while I cringed at her side begging her not to answer! Hahaha!
10. She is my personal ad agency. With all the bullying and demands I did as an "Ate", she is always proud of me even if I did not achieve anything significant. I heard her tell my Tita once that "Ate has a nice voice". It made me wonder if she wanted anything from me that bad. Oh, not my St Peter, girl! (inside joke) Even the minute personal triumphs I have, she is already so proud of me that I feel like I found a cure for cancer. Labyu, Sinit!

I hope in these trying times she'll find a way to celebrate this day. Please send her a message if you are her friend. Or just stay at home as a gift to her. That might brighten her day more. Happy, happy birthday, Sinit! Mwah!