For more than ten years, I have been using a toilet and bath that has a defective flush, uncovered shower drain and leaking sink. Our toilet flushed so well when it worked before because Papa, the mechanical engineer, configured the toilet system with vent pipes. He explained the configuration to me before when I asked why our toilet flushed better than the other house but I forgot the science behind it. Don't ask me the details. The problem with ours then was that we needed to change the toilet bowl itself. Rust developed and the tank could no longer carry water for flushing. So, for more than ten years, I was using a pail of water to flush my toilet. Yes, more than ten years.
Family and friends who stayed overnight in my house knew this. I had family and friends from first world countries who had to contend with my lousy toilet. They endured the inconvenience and I never heard them say anything bad about their stay. You know you have friends for keeps when they remained friends even after subjecting them to a primitive toilet system.
Finally, I decided to do something about it this year. Since I have been living with an ugly toilet for years, I went beyond the bare minimum and decided to really make it beautiful. I was not aiming for just a repair. I wanted a makeover.
This was day 1 of my toilet renovation. Workers removed everything and started working on the floor and walls. I did not take a "before" photo because that would ruin whatever good reputation I have. Makadaot ug dungog! Hahaha. It was that bad.
I have a 1.8 meter by 1.5 meter toilet and bathroom space. It is fairly small but the space is enough for me. Without further adieu, this is my finished bathroom.
I bought a pre-fabricated enclosure from a hardware store so I do not have to scout for suppliers or contractors for the enclosures.
I also chose a narrow sink to save space. The sink is so narrow that I had to gingerly wash my face. Bawal malaki ulo sa sink ko, guys. Hahaha I also found a narrow cabinet from a home store for my toiletries and towels.
And I now have a manual bidet. Tabo no more!
I kept our old louvered door but opted to turn it to sliding one to save space.
My toiletries are very minimal.
While the workers are still available, I took advantage of tapping them for the minor repairs in my house. I had my leaking roof fixed and some parts in the ceiling had to be replaced. I also had the cabinets in my parents' room repaired. The house was infested with termites years ago and the damages on the cabinets are still there so I had them fixed.
Fixing the cabinets meant I had to unload everything in it. I still have some of my parents' things. It has been more than 10 years since they have passed away.
These are the interesting things I found and each piece has a story to tell of the life we lived.
I found my toy train and letters from friends.
I remember Papa asking me what I wanted him to buy in Cebu. He and my cousin, Kuya Edwin, went to Cebu to buy materials for the construction of my aunt's house. I told him that I wanted a toy train since the impressionable child in me saw in a book an illustration of children playing with trains. Papa, the educator, had to chime in that the men on the moon went to Cebu to buy me a toy train. (Papa's name is Neil. Neil Armstrong and Edwin Aldrin, gets?)
I live in Butuan City but I spent my high school in Davao. During summer vacations, I wrote letters to friends to keep in touch with what was happening with their lives. In these letters specifically, they wrote about where they would be enrolling for college.
Speaking of college, I found some IDs I had in college. The library of the UP College of Science then went digital. Library cards were replaced with Borrower's ID with bar code. And I used to have a student's discount card for Philippine Airlines. Plane fares are expensive. I only used this a few times when I traveled alone. I usually traveled by ship if I had someone to accompany me.
I also found my ballet costume. I had ballet lessons for a year and it was supposed to train me to have a better posture. Indeed, I had a better posture when I dance. I could do the pirouettes, plies, arabesque, jete and others. I was told I was a graceful dancer but when I am not dancing, I am back with my bad posture. Ha!
This is my aunt's maid of honor dress that she used during my parent's wedding. The little girl is my cousin who will be turning 50 soon. (I will not identify who she is. In real life, she looks way younger for her age. )
This is my Mama's wedding gown and Papa's coat. My parents would have celebrated their 47th wedding anniversary this coming May.
I also found my father's job acceptance letter. I was 5 months old when he got a new job at a match company. He was paid Php 950 a month then. I hope it was enough to feed an infant who drank milk like it was water. I was an S26 (milk brand) baby.
I also found a few of their old passbooks. My parents always had a bank account even if their savings were minimal.
Owning a refrigerator then was a big deal. They were issued with a Certificate of Ownership.
Owning a stereo system required a deed of sale. Wow.
I still have that unit but the different parts are now used as a tables.
The stuff I found gave a glimpse of how my parents took good care of their things.
I am lucky to inherit their things.
This was my mama's dresser even before she got married.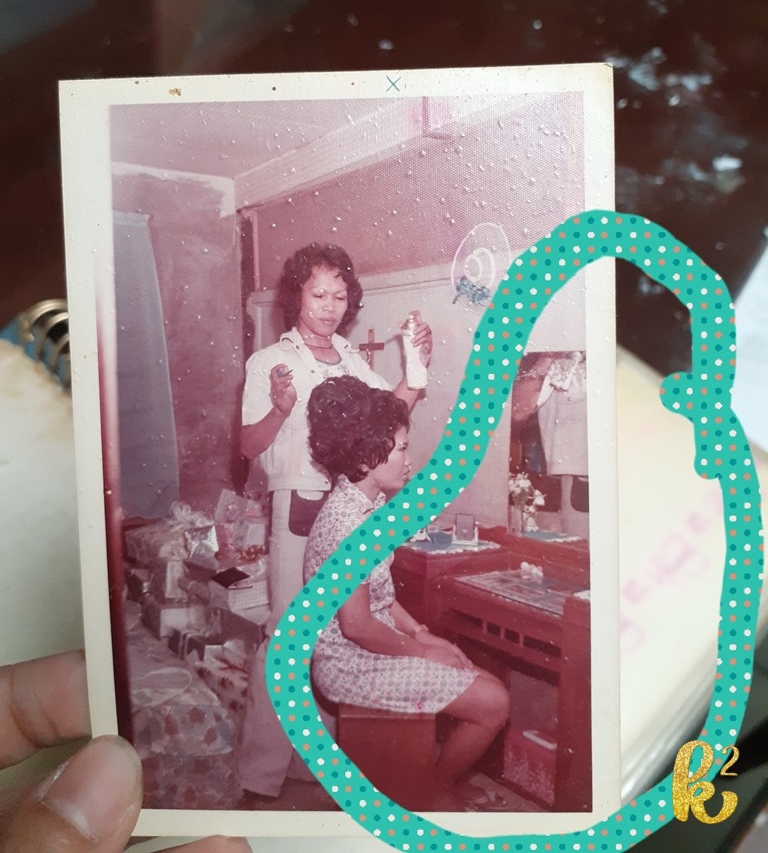 I replaced the mirror, changed the knobs and repainted it. I am now using it in my bedroom.
There were also things I needed to let go.
This was my parent's bed. It had been my bed since birth. (I slept in their room until my father's death. Papa had a separate bed in the room).
This used to be our setup. Mama and I slept in the big bed;Papa in the small one. (My Mama had separation anxiety when it came to me. I was away for school for 8 years.) When Mama died, I slept in the big bed alone and Papa still slept in his bed.
When my father died, I moved to my room but I brought with me the top mattress of the bed.
That is the only bed I had …until recently. The springs were already poking me. Before tetanus kills me, I decided to replace the bed.
I had the carpenter customize the bed for me. I wanted lots of storage space…
…and an upholstered headboard. Voila!
Since I wanted a makeover, I decided to rearrange things.
This was how my bedroom used to look which, I think, was already cozy.
This is now my new bedroom with my new bed and mama's dresser. It is more functional this time around. I painted the artwork so that I have my own art in my own room. I moved my photos over my bed to a different area in the room. The photos still need to be updated. I have new nieces and new dog.
As a postscript to all these stories of repairs and spring cleaning, I also found the house plans that my father kept.
My father had these plans made when he and mama planned to buy a lot in a good subdivision here. They were not able to buy the lot because the money they saved for it was used to help my grandparents redeem their pawned property.
This was supposed to be our house.
I am kilig that they labeled it "daughter's bedroom". My room!
My parents acquired another lot in another subdivision and Papa also had a plan drafted.
And there's the daughter's bedroom again. Excluding their planned walk-in closet, my room is bigger than theirs. Awww.
I have always wanted a bedroom on the second floor.
But life is what happened when we are busy making other plans.
We did not live in a subdivision. My parents already sold that subdivision lot. We live in a small house in a small barangay. My bedroom is not on the second floor but I would not trade our house for another house. This is home. This will be my home for as long as God allows me.
---
Oh, I realized my father did build me a second floor bedroom even though I do not live there. I was even part of the planning. I even made a layout using Sketchup. This was the last project I did with Papa.
This is my backup home for the zombie apocalypse. hahaha
I wish my parents lived longer. We could have done a lot of cool stuff together.
I should go back to cleaning before I get sentimental and bawl over these memories. Grief, they say, is love persevering. Something like that. Writing this post is my excuse for taking a break from cleaning.
I can do this. Aja!