My trip to Japan would not be complete without visiting my friend, Grace. Grace used to live in Dubai but now lives in Tokamachi City in Niigata Prefecture. When she was still living in Dubai she kept inviting me to visit her but it was hard for me to score cheap plane tickets. Then she moved to Japan. I told myself that I should be able to visit her this time. Plus, I follow her Instagram feed. She lives in a quiet and picturesque part of Japan. Very provincial and peaceful. Who would not want to go there?
We made sure that our Japan itinerary included a weekend in Niigata. We chose the weekend so we could also spend time with her family especially her awesome kids, Pristine and Benjamin. Too bad, Pristine was on a school trip. We missed her bubbly personality.
We flew from Osaka to Niigata via ANA. We scored an affordable plane fare that flies from Osaka International Airport (Itami Airport). This airport is different from the Kansai Airport. Good thing Gail read the ticket details. I would have assumed otherwise. This is the reason why we chose the Namba area for hotel location in Osaka because the stop for the airport bus to Itami Airport was just a short walk away. We woke up early to catch the 6:00 a.m. bus so we arrived at the bus stop 15 minutes earlier. We alreayd saw the bus waiting for passenger and we were pretty surprised that it was almost full. These Japanese people and punctuality left us wanting! (Sana all!)
I do not have a photo to show for our trip to the airport or even when we arrived in Niigata airport because I avoided looking like a tourist. I felt that I already look like a tourist because I think we were the only non-Japanese at the airport. I guess not so many tourists take our route. Everyone was quiet and calm. If I kept on taking pictures, I would attract attention. So much so that while we were on flight, I saw Mt. Fuji from the airplane window. I practiced self-control to not take a picture because the Japanese passengers in my row were so behaved and quiet that talking to Gail (who sat near the window) about taking a picture for me would already be too noisy. I just saved the view to my own memory, analog-style. (How did I know it was Mt Fuji? The perfect cone was a giveaway. Plus I asked Grace when I remembered it days after I arrived home. Ha! )
And Google confirmed it.
When we reached Niigata, we needed to travel to Tokamachi where Grace lives. Grace was unable to fetch us because the day we arrive was also the that Pristine leaves for Tokyo for her school trip to the US. Grace needed to drive P to the train station. So she gave us instructions on how to get there. We checked Google and asked her for confirmation of the route.
We used this site for instructions.
If one looks closely, the time when the train leaves was so specific. 12:06. Not 12 noon; not 12:05 but 12:06. That is how precise they are with the schedule. And in particular, at 14:12, we needed to transfer to another train in 3 minutes. I told Gail that we might not be able to get to that train in 3 minutes and I did not think they would wait for us. So both of us put our game face on and focused on the task- find the train and be quick in getting there. As our train approaches the Echigo-Kawaguchi station , we could see the other train on the other track. And to get there, we needed to go down a flight of stairs, cross a hallway and go up another flight of stairs to the platform where the train was. All these steps while carrying our luggage and doing everything in 3 minutes! No wonder many Japanese looked so thin! Traveling is a form of exercise. As soon as I found a seat in the train, I could feel my sweat trickled and I could hear myself breathe a sigh of relief.
Let me say that Google Maps was also very helpful in navigating Japan. Information is in sync with the actual schedule. Even the price of tickets is accurate. It makes me wonder how tourists managed to navigate Japan before the Internet.
We met Grace and Benjamin at the station. Although I missed Pristine, Benjamin came to the rescue. Benjamin kept us entertained all through out our stay there. He was such a pro in keeping us happy and amused.
Grace's house was just a quick drive from the train station.
She is surrounded by neighbors who have vegetable gardens.
As soon as she stepped out of her car, she was greeted by her neighbor who handed her a bag of eggplants. What a generous community!
When we entered her door, she still had a box of eggplants given by the same neighbor!
She showed us where we would be sleeping. Look at that! We stayed in a traditional Japanese home complete with tatami mats and screen doors/windows.
(Btw, this room is on Airbnb. If you want to experience Niigata, you might want to check this out. )
I love that this is their front door – a thin sliding door and there is no need for heavy locks. Yet they feel safe and sound. (My front door in Butuan had 3 locks. Plus I have padlocked iron grills for a gate. I needed those to feel safe and sound. Sigh. )
As soon as we got acquainted with our room, Grace called us to change into her yukata (summer kimono). While planning our trip, she already offered to lend us her kimono. Renting one can be expensive. She also had to help us dress since wearing one is pretty complicated.
There are different shrines near her place so as soon as we finished dressing up, she drove us there. Since Tokamachi was pretty laid back and quiet, there weren't many tourists. That is how I want to travel. Not much tourists= no photobombers. Ha!
I took this photo of Gail.
Grace took this photo of me taking a photo of Gail. Cool, eh?
It was starting to drizzle. We had enough photos already so we headed to the grocery. Yes, we were wearing yukata in the grocery! Only the two of us were wearing the attire. Take that Heart E! LOL
This is Gail talking to Benjamin while waiting for us in the grocery. Benjamin and her talked like they have been friends for a long time.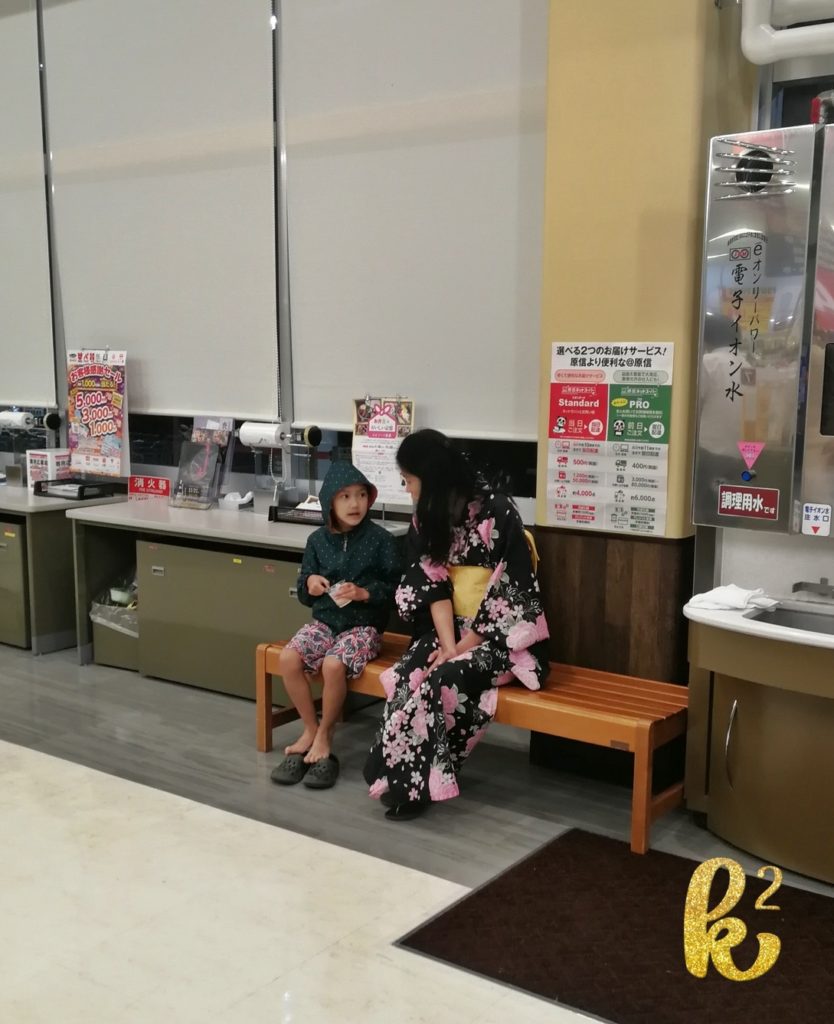 This is our first meal in Grace's home. Yummy!
For Day 2, we were out to explore Niigata.
Our first stop was in Ojiya. Ojiya is another city in Niigata which is less than an hour away from Tokamachi. There was a bullfighting event that day which Grace was invited so we got free entrance. We were lucky to be able to tag along. While waiting for the matches to start, we walked around the area. The venue was on a mountain area. Look at the view! Lots of Christmas trees!
We also had cold soba to fill our tummies.
We walked around.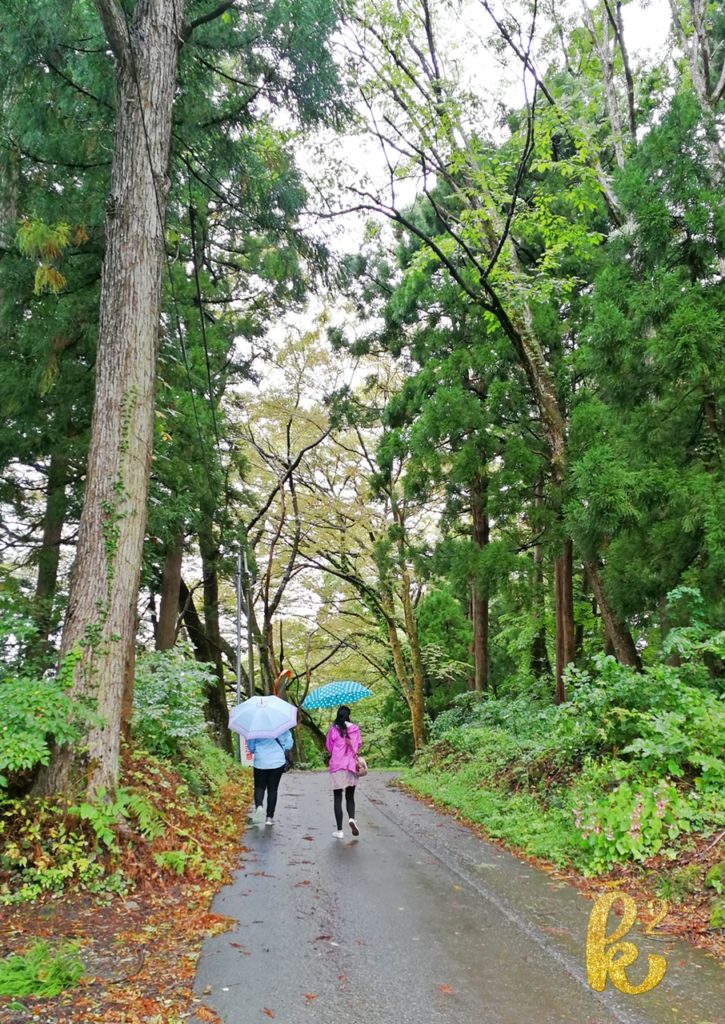 We were informed that there is a shrine nearby. What are shrines really? This is how I understand it from Grace's explanation. These are places of worship of the Shinto religion that originates from Japan. In Shintoism, they do not have churches and regular masses like us Catholics. Instead, they have shrines scattered all over Japan. Some are small ones like that ones we saw in Niigata and some are huge ones like in Osaka. People offer prayers in these shrines. The torii gates we often see are the entrance to a sacred realm.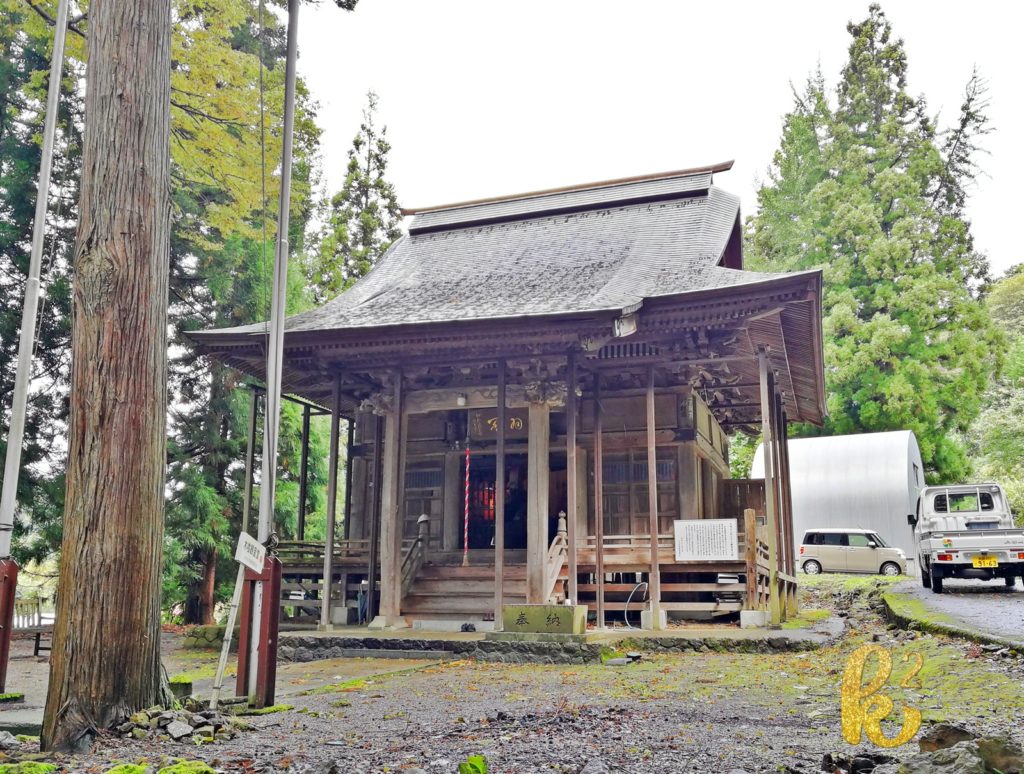 Inside the shrine are these objects of worship.
After a quick hike we returned to the arena, we had reserved seats. This is Grace's surname in kanji.
Bullfighting or Tsunotsuki is a Japanese tradition which spanned for more than a thousand years. It is different from the Spanish bullfighting where there is a match between human and a bull. In Tsunotski, two bulls fight each other to show strength and skills.
And no bull wins a match. As soon as any of the bulls show aggression, a group of men (seko) would separate the bulls by tying a rope in the bull's foot and grabbing the nose (the weakest part of the bull's body). Then the match is over.
People in Ojiya want to keep this tradition alive. Our host lent us this device so that we can hear him make commentaries in English. Afterwards, we rated the quality of his commentary. We were asked to answer a questionnaire on how to improve the event to attract visitors to the area.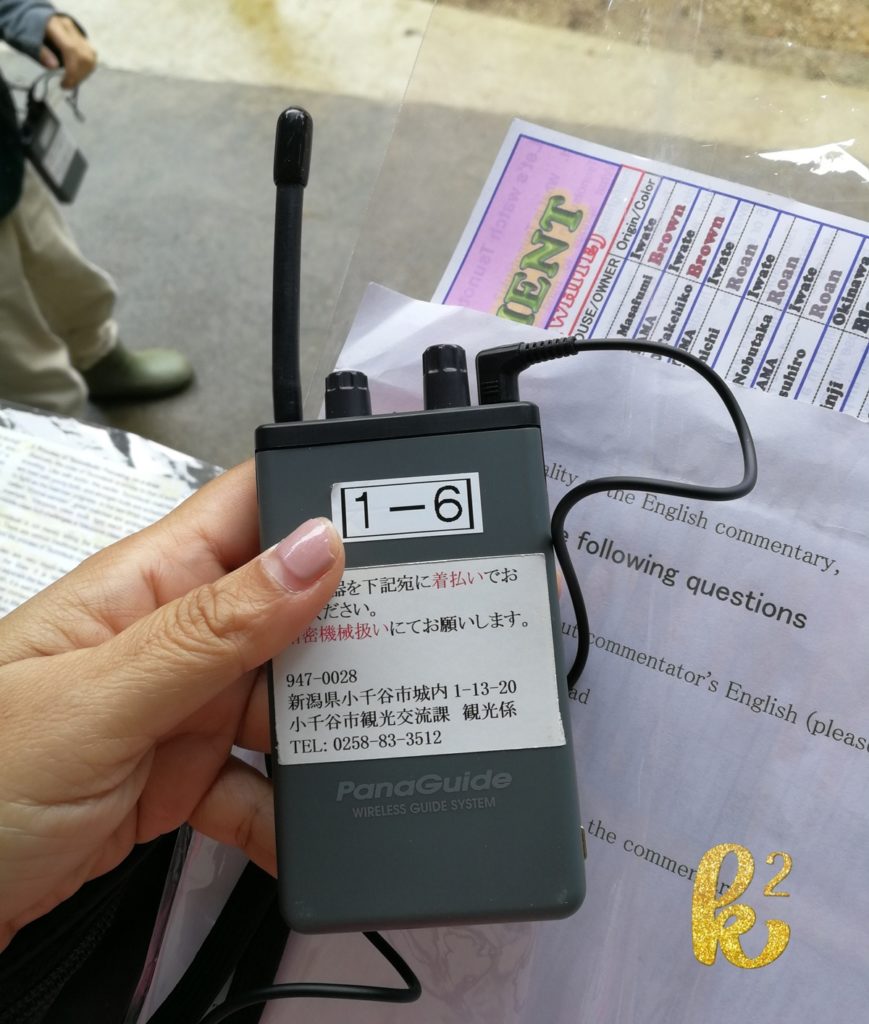 We were also given this delicacy for snacks.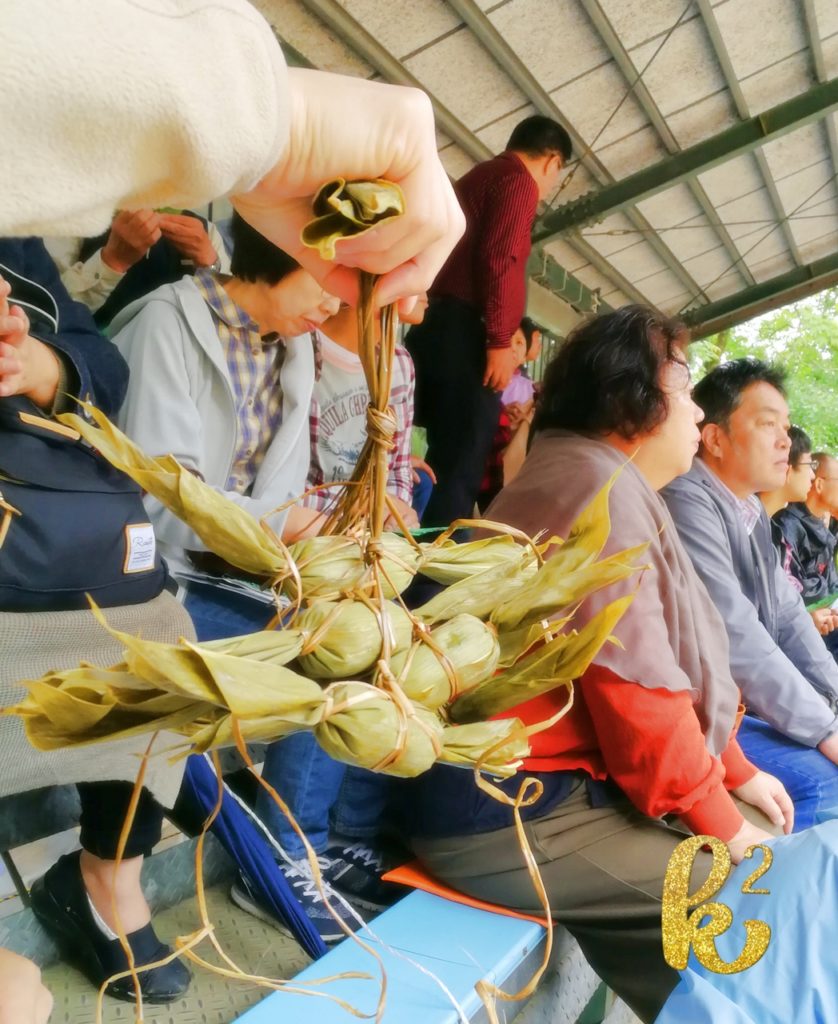 Yummy! This tasted like Surigao's sayongsong but with red bean filling.
We watched all the 17 matches! There was one bull who did not want to fight. It kept running away from the other bull. The sekos just let it be. Game over. The bulls were led to their holding areas. (Walang basagan ng trip!)
It was a unique experience for us. It was the first time for everyone. Even Grace's husband, who was born and raised in Japan and he also grew up in Niigata, witnessed this form of bullfighting for the first time.
Now off to lunch! We ate at this katsu place. Happy tummies!
Off to the next spot! Nishikigoi no sato! Entrance was free that day.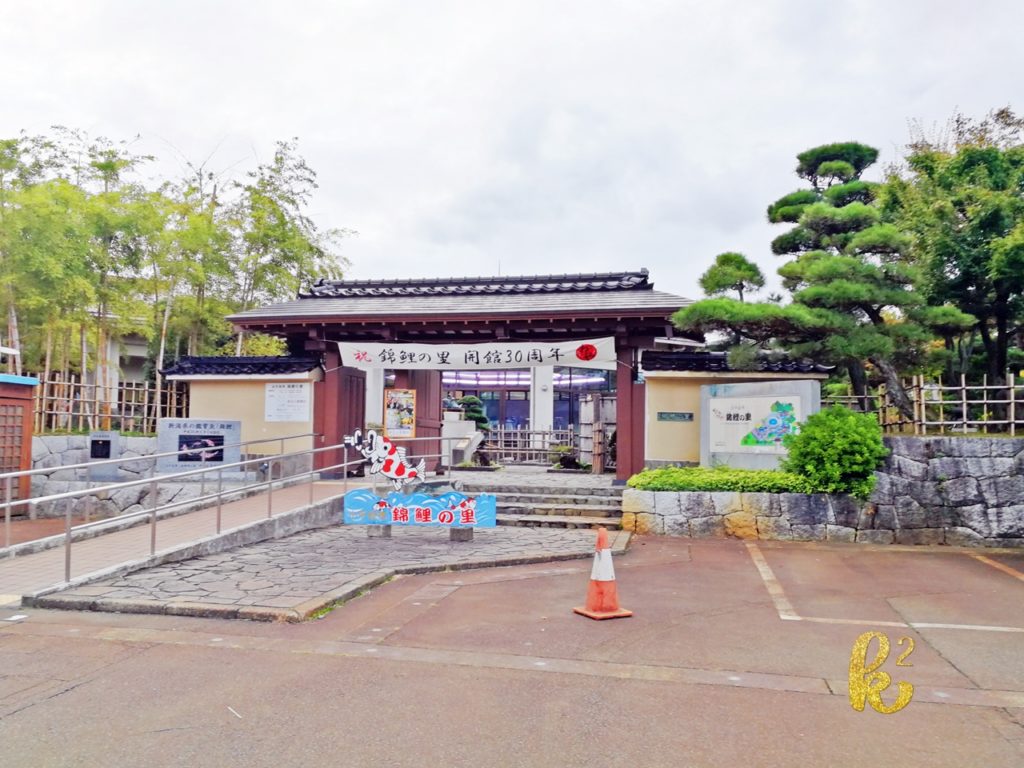 From their website: Nishikigoi is the generic name for the carps with beautiful colours and marking patterns. They are sorted out from the edible carps, called "koi" in Japanese. The improvement of edible black carps into Nishikigoi for appreciation started at the beginning of the nineteenth century. Through people's unceasing efforts black carps have now turned into exquisite Nishikigoi.

Nishikigoi no Sato is the only place in the world where a wide variety of live Nishikigoi are on display along with the materials showing the history of their improvements. Nishikigoi are usually raised in mud ponds from spring to autumn, so their beautiful figures cannot be seen from a close distance during these seasons in breeding districts. In order to solve this problem, the city of Ojiya opened Nishikigoi no Sato in October 1989, so that visitors can see genuine Nishikigoi, in their birthplace, swimming in clear water throughout the year.
How lucky are we to be in the best viewing area with the most number of koi varieties and we got in for free!
They were huge and very hyperactive! Ha!
Can you spot the platinum koi?
Grace, I can't thank you enough for bringing us here! I took a lot of photos for future painting reference.
It was getting dark when we left. We dropped by their public library where Benjamin borrowed some books to read. Tokamachi is not a very populous city by Japan standards and yet it has an awesome public library! Photos were not allowed so I do not have something to show. Grace told us that during summer when kids are not in school and temperature was high, they would spend the day at the library. Sigh!
When we got home, Benjamin started to write his homework. He was writing on his diary of what happened during the weekend. He did his homework while we munched on edamame.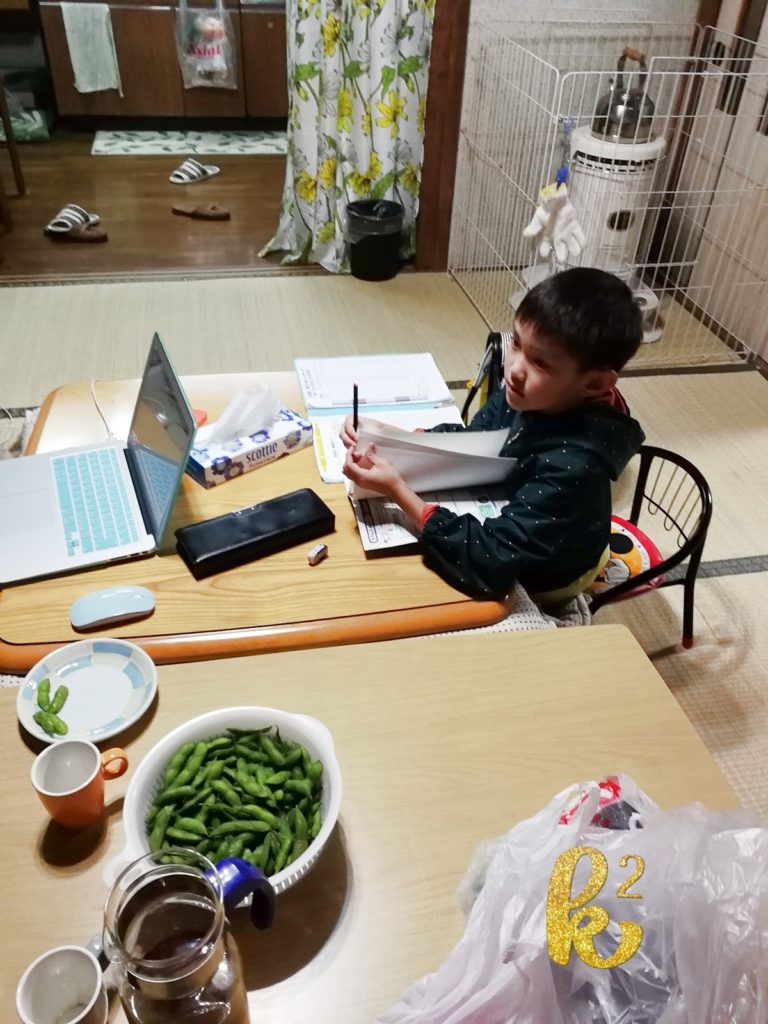 We also had this delicacy called chimake, a glutinous rice dish wrapped in bamboo leaves.
We had dinner while Grace booked our bus trip to Tokyo for the next day. We are so blessed to have a wonderful host, efficient tour guide, stylist, skilled photographer and booking agent in Grace. These are just a few of her incredible list of practical life skills.
We left Niigata for Tokyo by the third day. But since our bus was scheduled to leave at 12:05 p.m. We still have the whole morning in Niigata.
It was a Monday and Benjamin had to go to school so we accompanied him to the meeting point of school kids. Japan's school children walk to school with their schoolmates.
Children in Benjamin's school were assigned groups where they walk together to school every day. Older kids serve as leaders. This is Benjamin's group and look how they lined up in an orderly manner.
Since Benjamin was in school, Grace and her husband, Maki, drove us to the Kiyotsu Gorge. Kiyotsu Gorge is one of Japan's most gorgeous gorges.
The tunnel that runs along the gorge was transformed into an art installation.
Even the toilet was turned into an art installation. Yes, this metallic structure that looks like a space craft is a toilet.
This is how it looked inside.
And this is the view when you sit on the throne.
The tunnel had colored lights in the hallway.
And the pièce de résistance is at the end of the tunnel. This is the light cave with a water feature and mirrors reflecting the Kiyotsu Gorge outside. It looked awesome!
After we toured the tunnel, we dropped by this structure.
On the second level was a foot spa.
We dipped our weary feet.
We looked up to this opening that lets us see the nature outside like a periscope.
We climbed down the steps to get a closer look at the river that flowed in between the gorge.
What a way to end our last day in Niigata!
Grace dropped us at the bus stop.
We were the only people inside the waiting area.
Thank you so much, Grace! I will be back someday!
Look what is inside the bus! A comfy foot rest for the 4-hour ride. There was free wifi and charging socket. Not bad.
Off to Tokyo!
*** Thank you, Grace, for the wonderful photos!