Let us go back to 2020 when I planned to go with my friends to Dinagat on March 17. And we all know what happened. Lockdown due to COVID-19 in the Philippines started on March 15. So traveling was out of the question.
It does not help that my friend, Bryan, who works there frequently sends us wonderful photos. Imagine being locked down in an island paradise for a long time. While everyone is frantic over the uncertainties, he had the beach, all the seafood and away from the virus. Seems like a dream. Bryan lives that dream life minus the occasional burger and junk food cravings which is our only advantage over his island living. Every time he sends us photos, I would always say, "Please open the island. Let me go there." Its neighbor, Siargao, had long been open before Dinagat decided to open its shores to non-residents.
So when my friend, Jen (who is Bryan's best friend), invited me to join them in Dinagat (in particular, in Libjo, the town where Bryan works), I said yes! Finally!
This was my vantage point in the ferry going to Libjo.
We were already at sea when I got a call from my aunt that it was raining real hard in Butuan. She said that there was a low pressure area. She was worried about me crossing the Surigao Strait. Almost five months before this trip, Typhoon Odette happened so I understood the concern in my aunt's voice. But where I was then, the sea was calm. I had to send her this photo to reassure her. Good thing that the mobile network was stable.
It did rain a bit but it did not dampen our trip. Look at this view. The weather was perfect.
We arrived at Libjo by mid-afternoon. My friend, Bryan, and his beautiful dog, Wolfie, waited for us. We were treated to a yummy and refreshing halo-halo.
Wolfie came with us to the resort we were staying.
We stayed at Luta's Beach Resort. The resort has a building that can accommodate at least 8 adults which was perfect for our group.
Our accommodation has a beachfront. It was easy to watch over Wolfie and the kids.
We walked a bit to the other side of the resort to swim in the clear waters.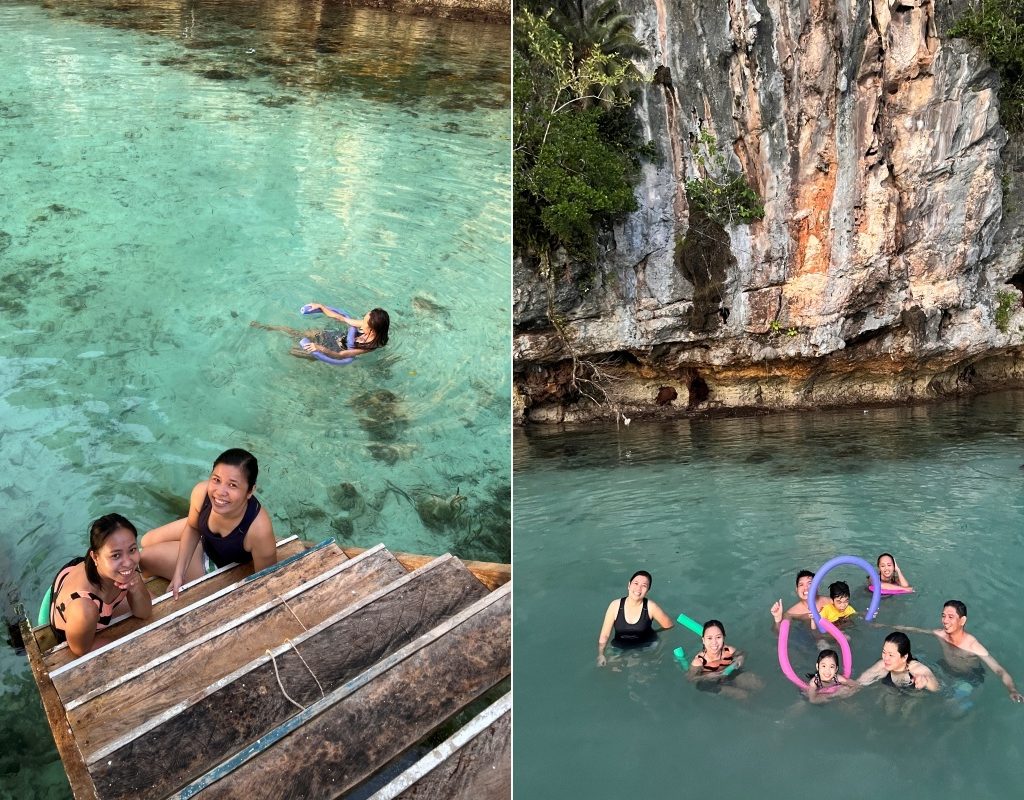 This is the sunset at Luta's Beach.
The following day, we had breakfast at the beach.
The resort sent us grilled saang (conch shells or spider shells).
We eat this by taking out that meat…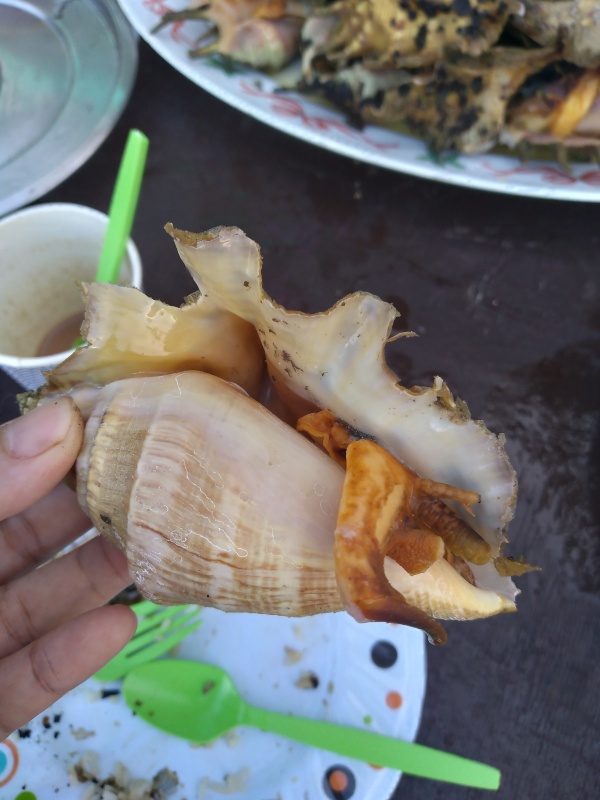 …and dipping it in a mixture of soy sauce, vinegar and spices.
The day was young and we were off to another island. Bye, Luta's Beach resort!
Hello, Pangabangan Island! Wolfie was raring to jump.
Our boat docked here.
This area used to have a wharf but Typhoon Odette destroyed it. This was in 2019
This is my favorite place in Libjo-the blue lagoon. Sounds like a Brooke Shields movie. (My age shows hahaha) No Brooke Shields in sight. Just us- equally beautiful in God's eyes. *wink wink *
The Blue Lagoon is a body of blue-green water teeming with marine life. We took a raft to get to the deeper part of the lagoon.
I needed a pool noodle to swim. I think the pool noodle is a way better version of the usual life saver (aka tire interior hahaha) for non-swimmers.
Even Wolfie joined us in the raft.
I think we stressed him out. Whenever someone jumped off the raft to swim, Wolfie panicked and tried to save that person thinking that the person was drowning. Here's Wolfie acting as lifeguard for everyone.
What a sweet, sweet dog!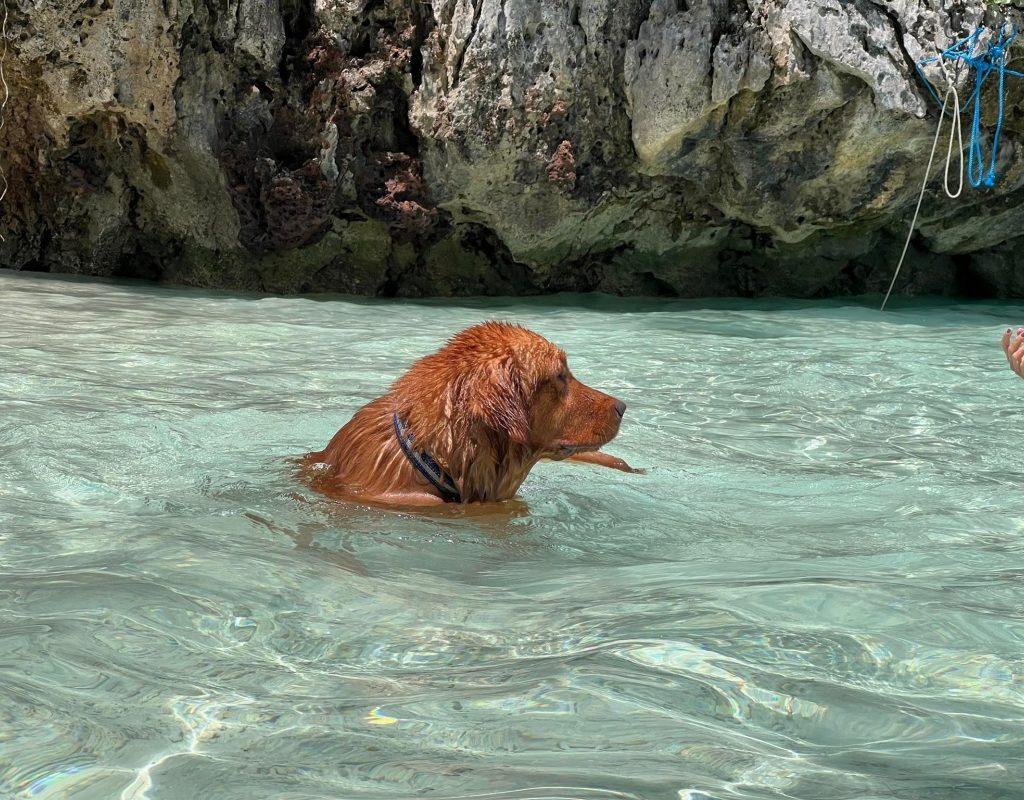 We made the most of our time in the area by taking more photos.
All the swimming made us hungry. We sailed back to Libjo town proper and ate… lechon!
Our friend, Eireen, celebrated her birthday with her family in Libjo. I was really lucky to be invited to join this trip since I only met Eireen and her family during this trip. I was practically a gatecrasher. Haha!
The lunch venue was near the town square.
We went to another beach after lunch. I have only shells and corals to show for it. Sometimes you just enjoy the experience so much and just forget about the photos. And there are experiences you hope your friends do not remember. (hahaha Right, Amor? Just a little secret between travel mates.)
We stayed in the town proper on our second night. We strolled along the Libjo's roads on our way to dinner at Eireen's sister's house.
This is where Bryan works.
This is Libjo's municipal hall.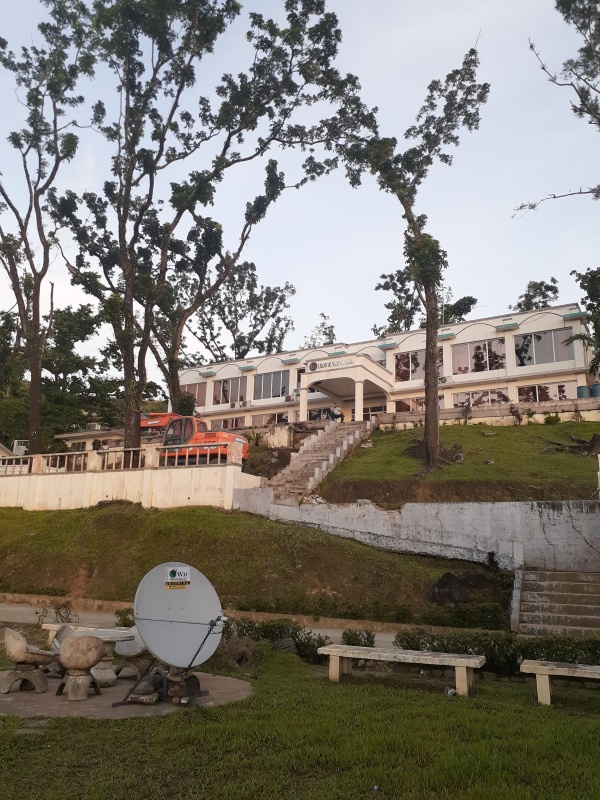 This is Libjo's gorgeous sunset.
My trip roommate, Amor, enjoyed our walk in their boulevard. Libjo is getting back on her feet after the devastation from Typhoon Odette.
Libjo is easily one of my favorite destinations in the country. Truth be told, this was my third trip there and I will definitely go back since Bryan kept sending photos of some spots in Libjo that I have not visited.
Thank you to my wonderful travel buddies, our awesome host (Bryan) and the accommodating people of Libjo. I will be back!