The Palawan trip  required me to find accommodations in Puerto Princesa: one night before we proceed to Taytay and another night after leaving Taytay.  My trusted site when it comes to online hotel booking is Agoda. I booked with them early this year with our Malacca trip and the process went smoothly.
What I like about Agoda is that I can arrange my search according to hotel ratings based on user reviews.  Casitas de Az is one of the hotels that often showed up in my search. It is actually a pension house and judging from the photos, the place looks new. I especially like the white linens. I like white hotel linens because it makes the room look clean. Besides one can easily determine if the sheet is clean or not when it is white. What seals the deal for  Casitas de Az is their free airport shuttle. It eliminates the hassle of having to haggle with a taxi, tricycle or jeepney drivers.  Two weeks before the trip, I already booked this accommodation.
When we arrived Puerto Princesa, I was expecting someone carrying name will be waiting for us.
Alas! No one came. The tourist assistance desk came to the rescue and paged the driver for us.  Still, no one came.  I looked for a phone and it was suggested that I should ask assistance from  the tourist assistance center. The person manning the area was kind enough to dial the pension house for me. It took several tries before the call went through.  Thanks to the assistance of Puerto Princesa tourist desk, we finally arrived at our home for that night. I guess you need to call them the day before as a reminder. I thought the flight number I typed in the my booking was enough.
The room is pretty basic but it had everything we need: air-conditioning and a bathroom.
The bathroom door squeaks though but it was not a bother.  The room comes with free breakfast for two. Because we were leaving early the next day, we arranged that our breakfast be served early at around 5:30 AM. When we woke up the next day, breakfast was already waiting for us outside. (The late airport pickup was forgiven. hehe!)
The pension house is located in a residential area. When we first arrived, I remembered passing by ABS-CBN station.  When we went home that night from Robinson's, we told the driver that we were going back to Casitas de Az and mentioned the street name. The driver asked if it was the one near the cemetery. Huh? I did not see any cemetery so I quickly replied that it was near ABS-CBN.  The following day, when we were picked by our tricycle driver, we saw a wide open area near the pension house.  The entrance caught our attention because there was some kind of sculpture. Tantananan! It was a cemetery! My aunt exclaimed that had she known that the night before, she would not have slept well.
Would I recommend the pension house to others? Yes.  It is clean and very accessible.
I was supposed to book another night in Casitas de Az since we need a place to stay after our trip to Taytay but the rooms I wanted were already booked so I looked for another hotel.  I picked the cheapest accommodation I can find that is near the airport. Palawan Village Hotel came up in my search results. I already read the reviews so I knew the place is quite old but as long as it is clean, I will be fine.
This is how the standard room looks like.
The bathroom is clean but the tiles are old and I can hear the sound from the neighbor's television.
That locked door is scary. It connects to the executive room beside our room. We made sure it is locked and bolted. 😀
The actual door is really a sliding french door attached to this window covered with this pink curtain shown by my aunt.
All rooms open to this garden.
Would I recommend the place to friends? Yes,  especially those who want just a clean place to sleep.
For those who might not like these accommodations, there are a lot more hotels in Palawan.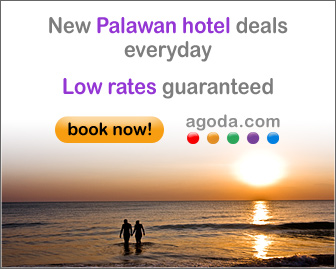 Just go out and travel!