"Dogs die. But dogs live, too. Right up until they die, they live. They live brave, beautiful lives. They protect their families. And love us, and make our lives a little brighter, and they don't waste time being afraid of tomorrow." – Dan Gemeinhart
It was late April 2012 when my cousin, Arvin, brought these two mini-pinschers into our lives.
They were named Boknoy and Blessy. But if you ask my cousin's wife, Tweetty, the names are Lucky and Blessy. Lucky is male and Blessy is female.
Look at how tiny they were!
When Arvin learned that sibling dogs of different sexes who grow up together in the same house run the risk of inbreeding, he left Blessy in our care. She lived in a spacious cage in the garage.
We felt that the cage was a lonely place for Blessy so we take her out of the cage on special occasions.
We blew my birthday cake.
She was with me one Valentine's day.
She comforted Joaqui from the New Year's Day revelry.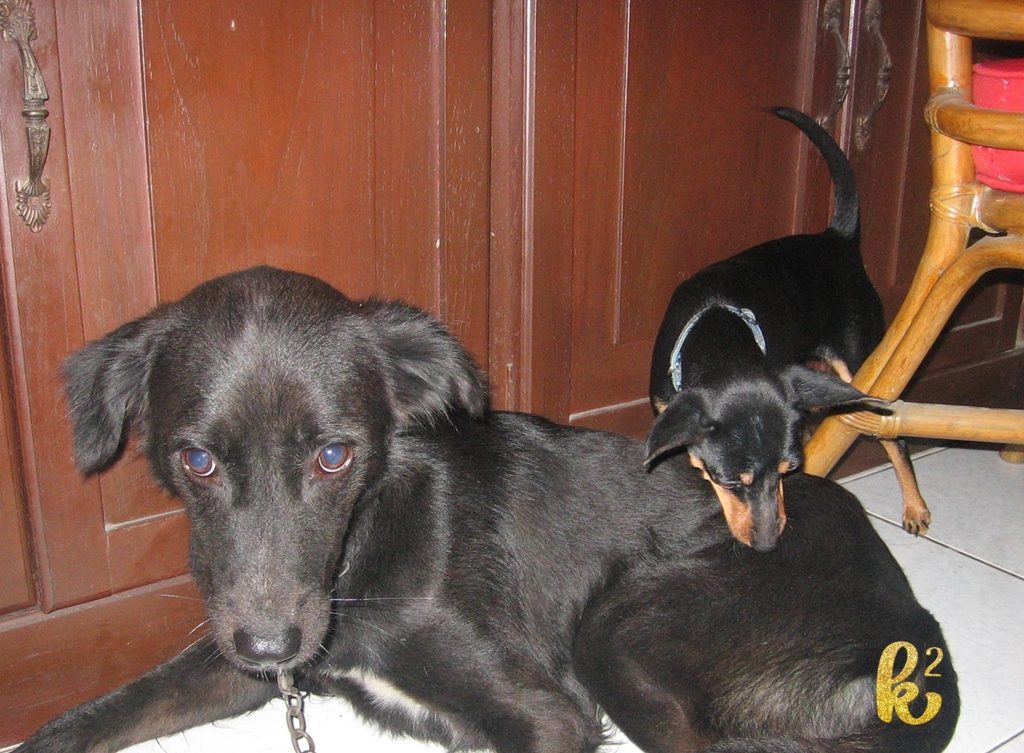 My cousin and I were the crazy dog people who think the siblings can communicate through Skype.
When Blessy was pregnant, she moved from the cage to the house.
Like a pro, she single-handedly gave birth to these puppies on her own. I was out that day and when I came back she already had puppies.
Arvin had to help her nurse her puppies, though.
She permanently stayed inside the house after giving birth. One of her favorite places in the house was my couch. We had to cover it with blanket to prevent her fur from sticking to the slipcover.
She loves sleeping on pillows and…
… on any surface with foam.
And if there weren't any soft surfaces, she would scrunch up a fabric to serve as her mat.
I would like to believe that her most favorite place to hang out was on my lap.
She liked to be with me while I worked.
Even if I was too busy to be bothered, she just wanted to be with me.
She sometimes fell asleep while waiting for me to finish what I was doing on my laptop.
When I had chikungunya, I was in bed for days. Having Blessy beside me gave me comfort that all is well in the world.
She was one prayerful dog. She had a special seat in front of the altar. Whenever it was time to pray the rosary, she would go to her seat and pray with us. And when she sensed that it took too long for me to go and sit beside her to pray, she would go to my room and bark as if telling me it was time to pray. Every Sunday, the minister goes to the house so that my uncle who is unable to go to church can receive communion. Blessy would insist to be brought to her seat at the altar so that she, too, can hear God's words.
She was a sweet, sweet dog. She was always happy to see me whenever I arrive home after being away for work or vacation. She always showered me with kisses.
She had a quiet side…
… but not for long! She was very hyperactive especially when she sensed that Arvin was just around the corner. She was our Arvin alarm. Ha!
Her loyalty remained with Arvin. She knew he loved her first.
But I know in my heart, she loved me, too. She knew I love her, too.
It broke my heart to see her nose bled two weeks ago.
She was not her usual bubbly self a week before that.  We thought she just liked to stay in because the weather was cold.
We sent her to the vet and we found out she had Ehrlichiosis and Anaplasmosis. These are diseases caused by ticks. We did not notice the ticks because they were small and she had jet black fur. The bacteria caused her platelets to drop and inflamed her pancreas. She stayed with the vet for five days. Arvin and Tweetty brought her to their house to look after her.
Last night, Tweetty messaged to tell me they sent Blessy to the vet. Blessy had difficulty standing and had low oxygen in her blood. I told Tweetty I will visit Blessy today.  When I woke up early this morning, I got a message from Tweetty that Blessy did not make it.
My heart broke and is still breaking. I miss her. Terribly.
I take comfort in knowing that heaven is smiling to welcome such an angel.
Hug Papa, Mama and Peachy for me, Bless!
"If there are no dogs in Heaven, then when I die I want to go where they went." – Will Rogers