I have an obsession with Batanes. I so want to go there but it is still too expensive for me. So whenever I see a photo of a place that looks like a Batanes landscape, off I go. This led me and my friends to off-beaten places like Palaui in Cagayan and Mariveles in Bataan.
This is Palaui.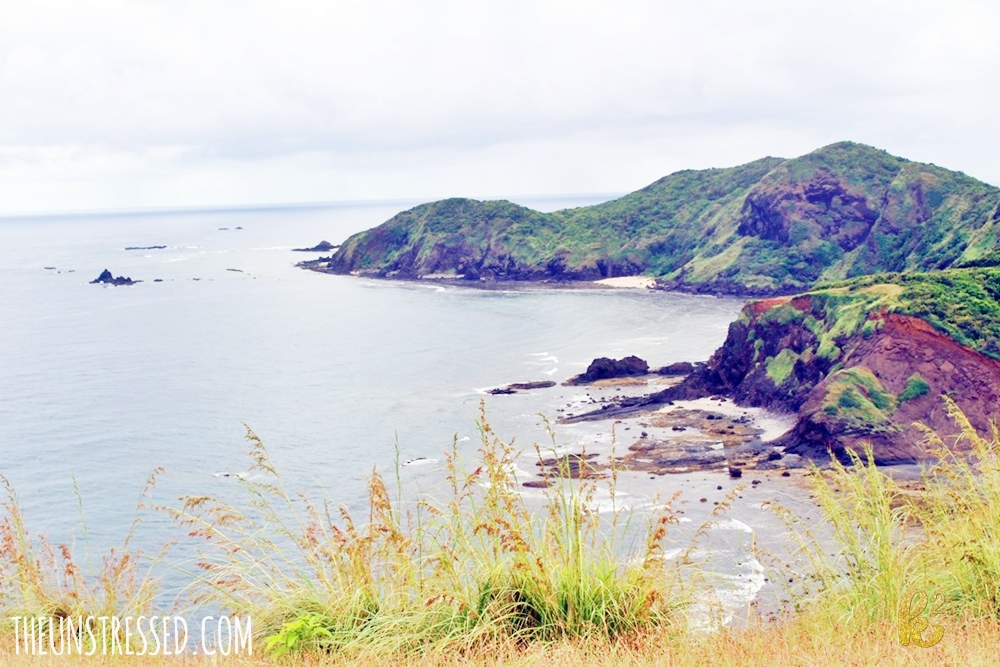 This is Bataan.
When I saw a similar picture which pointed to Dingalan, we found our new destination for a trip.
You see I have this annual trip with friends where we book promo fare tickets to a certain destination every year. We have been to Naga, Sagada, Ilocos, Pagsanjan, Cagayan, Coron, Bataan, Dumaguete, Siquijor and Cebu. So this time around we were aiming for Dingalan, Aurora. We have five days to spare so we googled for other destinations to visit that are near Dingalan so we decided on Minalungao and Baler.
Day 1: How to reach Dingalan
Dingalan was two rides away from Manila. Good thing there was a bus terminal in Pasay. When we arrived at NAIA 3, we had our breakfast at the airport. We then took the airport loop shuttle to Pasay MRT which brought us to the Genesis Terminal located in the same compound as the airport loop shuttle terminal. But lo and behold, the buses for Cabanatuan were stationed in Cubao not in Pasay. However, I knew that the Five Star Bus terminal was somewhere in this area and a quick Google search confirmed that it was less than a block away. A bus for Cabanatuan was about to leave when we arrived. Talk about great timing!
We left Manila at around 11 am. By the time we arrived Cabanatuan, we were already famished. We welcomed the sight of SM so we immediately got off the bus right there. We found this resto inside the mall. The rule was to eat somewhere that does not have a branch in Butuan. So we went to this adobo place in the mall. Nothing fancy. Nothing amazing also but enough to fill our grumbling tummies.
They said Dingalan was only an hour away from Cabanatuan. It felt like two hours. We arrived Dingalan close to 6pm. It was a long day, a holiday and a small town. It was so quiet.
We ended up eating at 7-11. Yes, there was a 7-11!
It was also raining that evening. Typhoon Ineng was somewhere in the North. We wondered if weather would be better the following day.
Day 2: Dingalan Tour
But they say that "tomorrow's another day!"
This was where we stayed. My beef with this inn? No mirrors!
We could hear the strong winds the night before but I guess the Universe wanted us to go to this trip because the waters were relatively calm. I was traveling with people who sail frequently across the Surigao Strait so Dingalan's sea was chill.
First stop was Lamao Cave. It was a small cave. We just stayed for some photos and off we went to Suwa Rock Formation.
We were very cautious in this site because the wind was so strong. I could now understand that news when someone was blown off the cliff while taking a selfie. We were holding on to dear life while climbing on the rocks. We did not pose of pictures until we were very sure we would not be blown off by the wind.
Look at my hair! It was that windy. I had to secure my phone under my shirt!
But look that the landscape! It was awesome.
But wait there is more! We docked at the White Beach. This was the starting point of our trek to the mountain view, the reason for this trip.
It was a relatively easy trek yet I did break a lot of sweat. The view was worth all the muscle pains.
Sigh! This is just majestic! Dingalan's mountain view has its own charm.
There was also a viewing area for the lighthouse. Going to the lighthouse was a separate trek which we skipped.
We had buko juice after our trek down.
We had a simple lunch at the town area.
Off we went to Tanawan falls! Another hiking but it was all fun because of the many chitchats with friends.
It was a small falls but we swam anyway.
There was a small view deck near the area also.
We also made a stop to get a photo of the Aurora Memorial National Park, part of the Sierra Madre mountain range.
We were 'oohing and aahing' over the sight of the mountains on our way to Dingalan. We were easily identified as tourists (and blown off my goal to blend in with the locals) because we ogled at the sights like silly first-timers!
We decided to go back to our accommodations after. It was a long day. We freshened up, had dinner and called it a day.
Day 3: The Arduous Journey to Minalungao.
We were off to Minalungao, Nueva Ecija for this day and would travel to Baler after. The route would be Dingalan -Cabanatuan- General Tinio-Minalungao-Cabanatuan-Baler. We estimated that it would take us 2 hours to reach Minalungao. In reality, it took us almost 5 hours. Dingalan to Cabanatuan took us 2 hours plus we went to a different terminal. When we arrived at the correct terminal, the jeepney won't leave until it is full.
We had to transfer to a tricycle to reach Minalungao. It was almost 2 pm when we arrived at Minalungao. We immediately ordered lunch.
When we were all recharged with food, we went on a 1,000-step trek around the park. There was a hanging bridge we needed to cross for the trek. The acrophobic me walked ever so slowly.
It was a long trek. I could feel my sweat trickling down my face.
On top is a cross and, from there, we walked downhill.
It was a tricky slope that I gingerly moved one step at a time.
We saw the spring pool still for completion.
The guide said that the longest water slide in the world is also due to open soon.
The main attraction in Minalungao is really the Penaranda river with its limestone rock formation on each side.
There are rafts for rent if you want to explore the river. We did not have time for rafting and opted to just stroll along the sides.
We left Minalungao at 4pm. We learned from our guide that there were no longer jeepneys that would be traveling to Cabanatuan from General Tinio at that time so the tricycle driver brought us to the Fort Magsaysay community area where there was a jeepney for Cabanatuan. It took two hours to reach Cabanatuan and we asked to be dropped to the nearest fastfood joint for dinner. We saw Jollibee and just ate there. We took another jeepney for the terminal and boarded a van for Baler. We left at around 7:30 pm and arrived in Baler at around 11pm. What a day!
Day 4: Baler Tour!
I guess we were fully recharged because we were up and chirpy the next day.
We hired a tricycle to tour us around the spots in town.
First stop was Diguisit beach. There were rock formations there which reminded me of Nanya in Taiwan.
We dropped by a small falls. There is a mother falls somewhere. It required trekking which we opted out. We were 'trekked out'.
We climbed up Ermita Hill.
The 2-kilometer coastline of Sabang beach can be seen from the view deck here.
Ermita hill was the place where people took refuge to survive the 1735 tsunami that hit Baler. Those who survived were commemorated with these sculptures.
We made a short stop at a hanging bridge.
The tricycle dropped us off in Dona Aurora's house and we were on our own after that.
I like the layout of the house of Dona Aurora.
We visited the museum.
We strolled around the plaza.
We spent some time at the beach.
When the evening came, we decided to eat at a bistro near our inn. Good thing we went in early because the place was packed by the time we had our meal. It was a good meal to cap the night off. The best meal we had on this trip!
Day 5: The long bus ride to Manila.
We woke up early to attend mass.
We had breakfast and headed out for travel to Manila. We took a 10 am bus from Baler and we arrived Cubao by 5 PM. We were able to watch three movies.
We met up with some friends in Glorietta and we hung out with them until it was time for us for board for our plane ride home to Butuan.
It was a whirlwind traveling from one destination to another using public transportation and lugging our bags around. It can be a hassle but it is better to do these things now while we are still strong and relatively young. Every discomfort is well worth the trouble every time we reach a destination. The Philippines is such a beautiful place. I am proud to call it my home.
Photo Credits:  Bryan Edulzura, Barbara Japitana, Jenifer Deligero,  Katrina Centeno.  We copied all our pics to each of our phones every night.  I can no longer identify who took which picture.  I placed the watermark for consistency.