March was a pretty exciting and challenging month for me.  The month started with a vacation but all the fun must come to an end.  The rest of the month was devoted to work. The moment arrived home, it was all work for me.  I had deadlines to meet. I thank God for the strength to face the challenges. By the end of the month, all the hard work paid off. I was glad to welcome April with an less hectic schedule.
Here are the 31 reasons why March is still a month  of gratitude for me:
1. Safe travel. We arrived Baguio safely.
2. Art. The highlight of the day is a visit to the BenCab museum. We appreciate his art and we love what he did to the place.
3. Geography lesson. We traveled from Baguio to Olongapo hoping to spend some time in Subic for the safari and some nature walks. We did not know that Baguio to Olongapo is an 8-hour trip. I thought it was only 4 hours.  This is the result of not doing thorough research on this trip. I cannot extend the stay in Olongapo because we already made reservations in Manila.  Next time, Subic, next time.  I had a little geography lesson along the way.  These are the provinces we passed through during the trip: Benguet, La Union, Pangasinan, Tarlac, Pampanga, Bataan, Zambales.
4. Good driver.  We rode taxi from Cubao to Pedro Gil.  Whenever I am in Manila,  I use the MRT/LRT no matter how crowded it is.  I feel safer that way. I cannot do that while towing my aunt's luggage so we hailed the cab. Good thing that the taxi driver knows the way. In that trip, we had taxi drivers who did not use meter and asked for an additional amount. They both cited traffic for the fee which we did not experience.  I do not always argue with the driver. ( Oh, this reminds me. I will report the incidents to LTFRB.)
5.  Reflection.  After a nice trip to Corregidor, we went to MOA to find a church.  I thought that the church was inside the mall like the one in Megamall.  It was Ash Wednesday, the start of the Lent.  We were early for the mass so I had time to reflect on my life. I remember being thankful for the opportunity to travel.
6. Finding a dress. I would be attending a wedding two days after and the bride wanted us guests to wear a dress in a bright color. I did not want to spend a lot on something I will not wear often so my Aunt and I went bargain hunting.  We went to Greenhills and I did not find anything I like within my budget. I ended up in Landmark. It looked like a glorified daster. haha  A friend told me it is called a 'shift dress'.
7. Safe solo trip. Since I would be attending a wedding, my aunt went home alone. The thing is: My aunt is afraid to travel alone. What I did was to accompany her to the airport up to the point where I am no longer allowed to enter. I promised not to leave the airport until I get a word that she landed safely in Butuan.  Yes, I was at the airport from 5AM to 10:30 AM!   (And I went back 3PM because my friends also arrived from Butuan for the wedding.)
8. My friend's wedding!  A lot happened during this day. The wedding was at 5PM so we have time during the day. I brought my friends to one of my favorite places in Manila:  UP Diliman.  We took photos with the Oblation, ate ice cream,  took a stroll along its acacia-line academic oval, ate at the Beach House and visited the chapel. We cut our visit short because it was time for the wedding. My cousin was also waiting for us at the hotel. The bride asked him to be the photographer and I was the 'assistant'.  Oh, we all had fun at the wedding and after the wedding!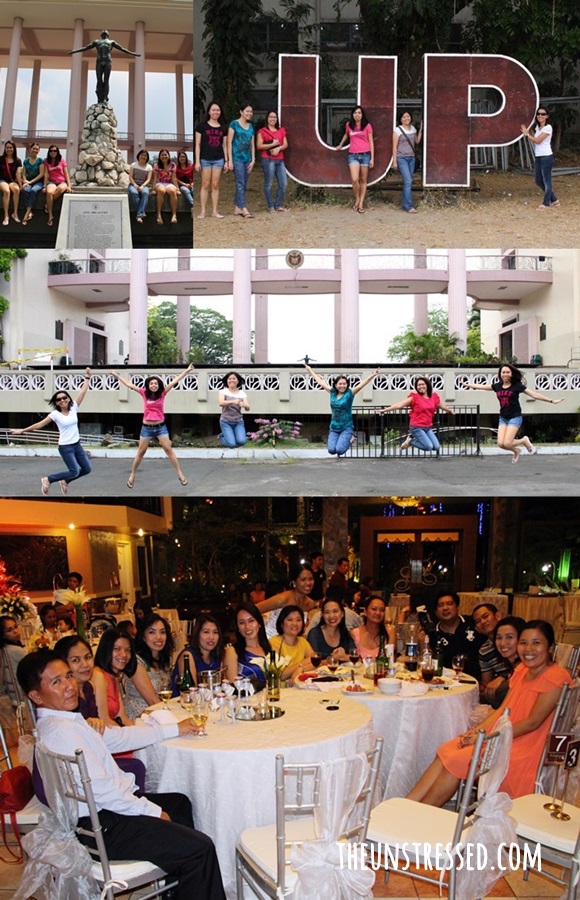 9.  Being home safe.  I was already away for more than a week. It was time for me to go home. My friends' were scheduled to fly home the next day. Oh, I got a lovely gift from my cousin. What a thoughtful person! And he has good taste, too.
10.  Strength. I woke up late because I slept late. I had a deadline the night before. Whew! While I was in Manila, I was informed that the client  needed  a report in a prescribed format.  I thought the one I did was already the required format. I had to negotiate this deadline so that I can still  enjoy my vacation. Thank you, God, I was able to get it done.
11. Travel wishlist. I was chatting with a friend and we agreed to travel together to a destination we both want to visit. We got excited because we thought it would be expensive to go there. We found out that some airlines offer promo fares to reach that destination. We now have a target month to travel to the place  and I will be on the lookout for promo fares.
12. Time for laundry. After looking through my schedule, I had to get this done or else I will be wearing my business clothes at home. Ha!
13. Normalcy. The vacation-mode switch was turned off. I had to get back to the daily grind.
14. A glimpse of the past. We were invited to a school event at our alma mater. It has been 25 years since we graduated from grade school and we will be celebrating that milestone this coming May.
15. Conversations. I make time with friends even if they are far away.I have not had a long chat with some friends for a long time.  Because of our busy schedules, I just leave messages on Facebook, they reply when she can and I reply when I can.
16. Sense of humor. A little sense of humor kept me sane. I got a little ribbing on Facebook from some friends. I just let it slide. I am usually pikon but I let it slide this time.  I know the issue will die its natural death.  It did!
17. Laughter. We had a meeting for the May grade school alumni homecoming. I did jot down what we talked about but if you ask me now, all I remember was the laughter at the meeting.
18. Faith. I knew I had quite an overwhelming task on my plate. I called on the heavens to guide me. The fact that somebody thought I could do it by assigning it to me was enough motivation to do my best and not let them down.
19. My friend's birthday.  I am glad that even with my busy schedule there were pockets of time where I can relax and have fun with friends.
20. New travel buddy. I have finally convinced my friend to travel with us on our next trip! My annoying persistence paid off. She booked the trip!
21. Meeting and willpower.  I used to hate meetings in my previous job but this kind of meeting was what I needed to get some directions on how to do the task that was assigned.   It was also during this day that I put an end to some bad habits- those types that I kept doing yet I get remorseful for doing  them.
22. Work. Work was a welcomed distraction from some of the silly thoughts I sometimes entertain.
23. Getting things done. I finally finished writing. The first draft was done.
24.  Good news. I picked up some good news about a friend on Facebook. She was keeping mum about it for awhile but I got some clues from her sister's comment so I sent her a message to clarify. She confirmed my suspicion: my friend is pregnant with her first child.  I am happy for her! There is hope in the world!  (Ha! I am overly dramatic!)
25.  Ideas. The enormous task slowly took shape and was slowly gaining confidence that it would get done. The first draft underwent several editing. Thanks to the ideas shared by the group.
26.  People. Thank you for people who care.  It was also an uncle's 80th birthday and he does not look a day older than 60.
27.  The end of the tunnel. The project  I was working on was almost done. One more day and I get my needed rest.
28. Relief. We finally submitted the completed project. Whew. What a ride!
29. Lunch with family. My cousin bought a new house and he was still fixing it up. He invited us for lunch.
30.  New Facebook friend.  A friend got a new smartphone.  I had to teach her how to use Facebook.
31.  Meaningful work. I got a feedback that the recipients of the project output were grateful for what we have done. After all the work we did, I was grateful somebody trusted me to be part of the project.
Thank you, March!