After our trip to Baguio, my cousin, Azenith, and I stayed a little longer in Manila. My cousin has been working hard for two years straight and never had a decent vacation. I think she deserved a break and I had a free rein on where to go.  Manila is not really a perfect place to relax.  I never really adjusted to the traffic, pollution and the crowd of this megalopolis so I looked for places where we can conveniently spend a day to relax. I thought of Antipolo.
As a traveler, I always try to go to museums, visit art shows or watch theatre so Antipolo was the perfect place for me. I have always wanted to see the Pinto Art Museum. Azenith was game with whatever destination I choose.
We stayed at an Airbnb in the Newport Area just across NAIA terminal 3. I think it is the most convenient place for non-Manila residents like me. There is a walkway towards NAIA 3 and there are many P2P buses at the terminal. For Antipolo, we had two options: take the NAIA 3 P2P bus to Ortigas and from Ortigas, take another P2P bus to Antipolo or take NAIA 3 P2P bus to Cubao and from Cubao, take the UV Express to Antipolo. We missed the P2P bus for Ortigas so we took the Cubao route. There was ample walking involved from the Araneta bus terminal (where the P2P bus driver dropped us) to the UV express terminal in Cubao. We were dropped at a side street near the Antipolo Church; we hailed a tricycle to bring us to Pinto Art Museum.
The museum grounds looked like I am in a hacienda in Mexico. Notice the hand sculpture. Did you play that game as a kid, too?
And, sometimes, because of the white structures, the place looked Santorini-esque to me. But what do I know about architecture? All I can say is that the place was heaven for an art lover like me.
The first painting that welcomed me to the museum was this massive piece entitled, Karnabal, from the Salingpusa Group. Salingpusa Group is a group of then amateur artists in the likes of Elmer Borlongan, Manny Garibay, to name a few, who used to hang out at this Dr. Joven Cuanang's property in Antipolo. The good doctor would hold exhibits for these emerging artists then. Look at where they are now! These artists have now earned a place in Philippine contemporary art history. Thanks to Dr, Cuanang's appreciation and support for Philippine art.
Shout out to this graffiti art because we were not those kids really. We come and go without warning. Hahaha!
The museum housed a massive collection of art that I gave up taking photos or else it would take me the whole day to complete the tour.
Here are a few pieces that caught my camera.
This is Aiya Balingit's "Bright, Cheerful and Pleasant Acts".
This is Keiye Miranda's "Intro the Realm of Consciousness". I love how we, as a viewer, would look up at the painting with a subject that is looking up.
This looks so familiar to me and when I looked at the label, I knew why. It is because Arnica Acantilado's work was part of the ManilArt2019 last October. This is her "Dolls on the Landscape".
I remember my favorite piece of art during ManilArt2019. It was a painting by Efren Carpio depicting a child hold a santol with leaves growing in on ear. It spoke to me because I knew that old wive's tale. These pieces from Demetrio de la Cruz had the same effect. The box of shoes below is entitled, "Lolong and Loleng". By the title, one immediately gets what it is all about. Lolong was the world's largest crocodile in captivity that also died in captivity and these shoes are made of … take a guess. Yes, crocodile skin. On top of the "Lolong and Loleng" is a painting entitled "Holy Cow" by the same artist. If one looks closely at the painting, the frail cow has a monogram of a popular luxury brand on its skin with a handbag placed on a designer chair. Notice the skull of an animal. These paintings made one think about the human acts that affect nature.
Pinto Art Museum has 7 galleries! Seven! I only dream of putting up one small gallery for myself in my own house but a museum with seven galleries with massive collection of art owned by a private individual is incredible.
This is the seventh gallery and construction is still on-going.
So huge. Look how small I am! (This is a sentence I wanted to write for so long. Hahaha)
There are installation pieces like this tens of thousands toy cars in one room.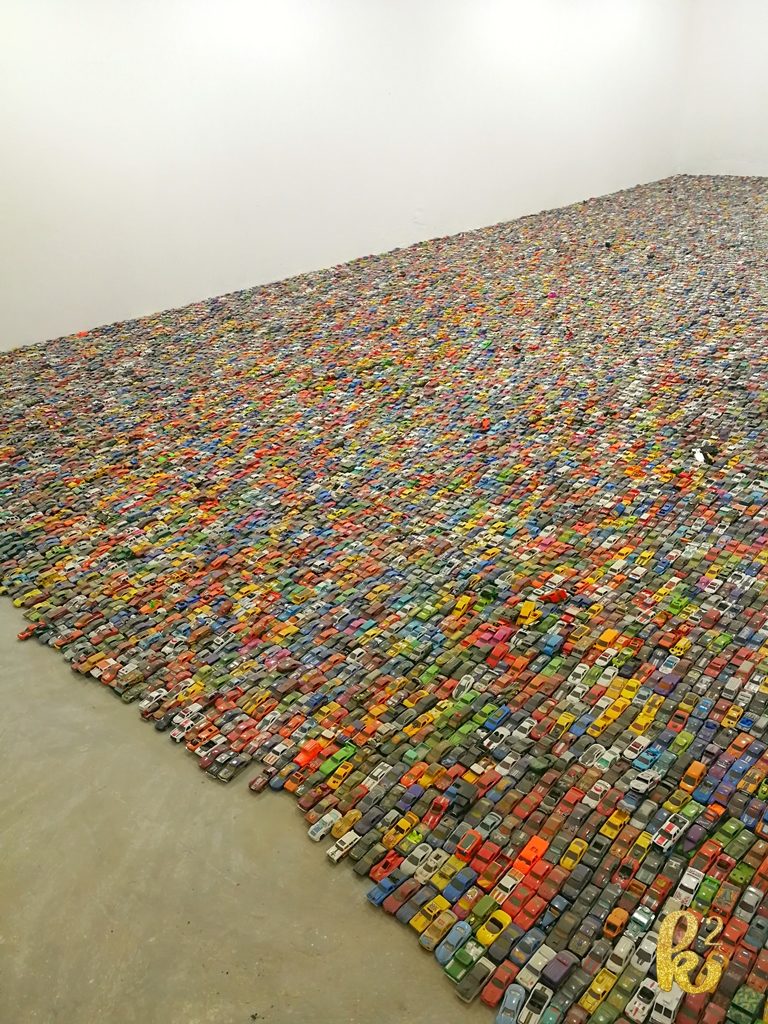 More paintings are displayed at the mezzanine.
Thank you, Dr. Cuanang for supporting Philippine Art and building Pinto Art Museum!
I hope visit again soon and just spend a leisurely tour to view each art piece.
We only spent an hour or two in the museum because, in the afternoon, we went to Luljetta's Hanging Gardens Spa. This resort has been on my radar for some time now. Facebook algorithm knows I am always on the lookout for nice places to visit.
From Pinto Art museum, we asked the tricycle driver to drop us near the Antipolo Church. We ate lunch at a local eatery. After lunch, we hailed another tricycle for Luljetta's Hanging Garden and Spa.
We availed of their day tour where we can access the different pools and jacuzzi.
We were given a robe to wear over our swimwear and a basket to hold our things. I did not bring slippers so I was given a pair to wear.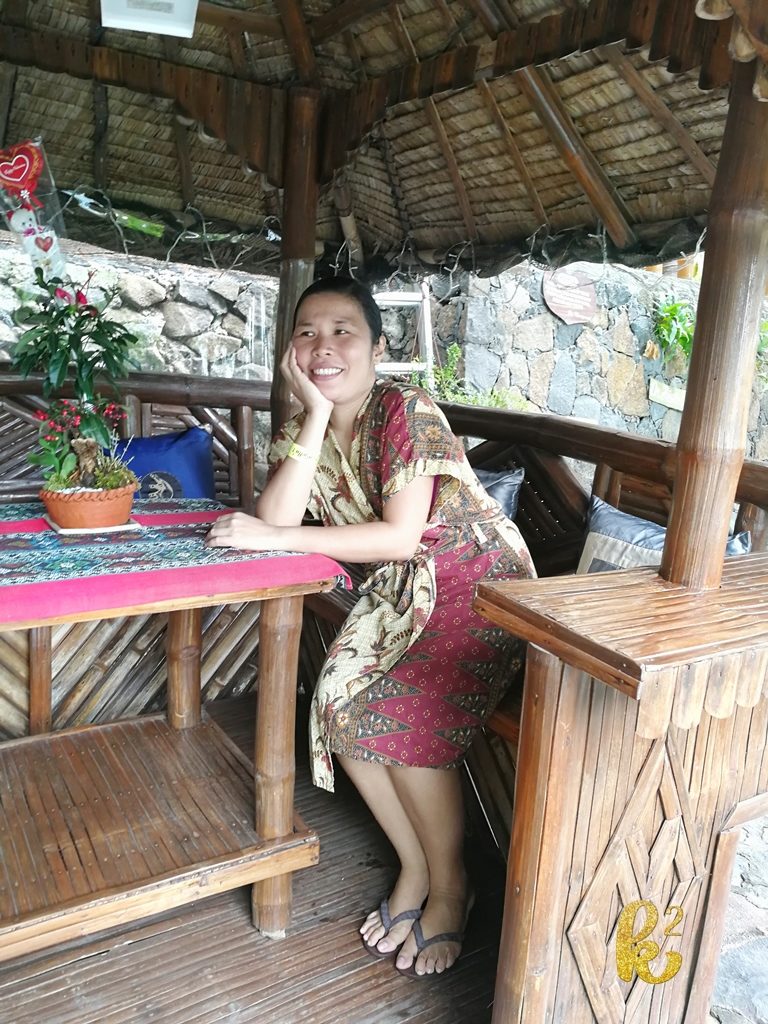 Our first stop was this area which was commonly photographed in many of the feeds that appear on my Facebook timeline.
It was the first week of February when we went. It was cold. And there were frog statues so I did not linger. Ha!
I tried the fish spa. I lasted a few seconds before feeling ticklish.
Azenith was ticklish.
So we went to the infinity pool.
Look at those majestic views.
I hope the view remains green in the future. I can see some subdivision development. It is sad. It might not take long before this view will be replaced with concrete jungle. So we linger a little to store the moment in our memories.
Truth be told, it was still cold.
We need to look for some heated pools. There were photo opportunities along the way.
We finally found a heated jacuzzi. But there were couples in it so we waited for our turn. There was a lounge area near the jacuzzi. One couple left. Then, I guess the couple who were left behind they felt awkward staying longer with two Titas as spectators. Ha! They left. We had this jacuzzi just for the Titas. We stayed as long as we can here.
We left before we turned into stew.
I guess looking for another water feature/activity exposed us to the cold breeze because we tried the sauna next.
Then we took a last dip in the smaller infinity pool.
We called it a day by taking the free merienda that came with the day tour.
We waited for the shuttle that would take us to the reception area.
Off to the reception area!
Luljetta's has a garden covered with umbrellas.
Outside the compound, we hired a tricycle to bring us to Robinsons Mall. There was a P2P bus in that mall that will take us to Ortigas.
So here's our P2P bus story. We arrived at Ortigas a little past 6 PM. The P2P bus for NAIA 3 already left so we decided to eat dinner in Galleria. We read the sign in the bus stop that the bus arrives every 2.5 hours. Since the previous bus left at around 6pm, we expected the bus to arrive at 8:30 pm. To be sure, we started to wait for the bus at 8 pm. Then 8:30 pm came, no bus. It might be caught in traffic. Then, 9 pm came. We started to think if we should have booked a Grab earlier. We waited for an hour already. We should have thought this through. All my brain cells were left in Antipolo swimming into the cold and hot pools. By 9:15 pm. the bus arrived. At last! As soon as we entered the bus, we were told that it would leave at 10 pm. Oh, well. Lesson learned: Check the schedule. I remember also that the bus passes through all the airports with NAIA 3 as the last stop. We anticipated the long commute. Because we chatted with the driver while waiting for the bus, he learned that we were staying at the Newport city area. When we passed by the area, he told us he would make a stop for us instead of us alighting at NAIA 3. It takes a little to be kind. Thank you, Mister driver.
We were dead tired when we arrived in our Airbnb. Talk about forced relaxation the next day!
I love Antipolo. I should try to explore more of the Rizal area next time.