Annyeonghaseyo! My friend, Gail, and I initially planned to go to Japan for cherry blossom season. We have been waiting for good deals for airfares but we have not found something that fits my budget. Then, this photo appeared on my Facebook feed.
This got me thinking: How about Korea? The country has cherry blossoms. With this package tour, we did not have to worry a thing. Or, so we think! Ha! We have been DIY travelers. I have traveled with Gail to Coron, Bacolod, Iloilo, Siargao, Taal and Taiwan. We have relied on our research skills in planning for these trips. Oh, let me rephrase. I have relied on Gail's research skills in planning for these trips. No travel agency, we booked our own plain tickets, hotels and what-nots. Not having the control can be daunting for us. It was reassuring for me that it was Globelink who took care of us. My cousin owns the travel agency and I know her well. It would be easy to just sit and relax and let them do their job. And yet, we still bombarded them with a thousand and one questions through texts, emails and messenger because we, as travelers, were built that way. We were giddy excited and just wanted know everything. Hahaha! Thank you, Globelink, for your patience.
This was also the first time for me to travel to a country that requires visa for Filipinos. Waiting for the visa application results was nerve-wracking. I couldn't continue planning for the trip with that cloud over our heads- that they could deny me that visa. Thankfully, we were granted visas. We were really only after the cherry blossoms. The Philippines is too beautiful a country to leave behind for long.
Anyway, back to South Korea. We strategically chose travel dates when the cherry blossoms would possibly start to bloom. There weren't much forecasts on Korea's cherry blossoms so we just picked the first week of April.
We arrived at the Incheon airport in South Korea at 10:30 P.M. The airport was huge. We had to ride a train and walk thousands of steps just to get to immigration, get our bags and look for our guide. We had to wait for others in our tour group, too. There were 43 of us in the tour group.
Early April in Korea is cold. It was really cold. That blast of cold wind greeted me as we stepped out of the airport doors to wait for our bus. We actually did our research. Temperature forecast was around 14 to 18 degrees Celsius. I figured that would be "aircon" weather. I have been to Baguio earlier this year; the temperature dropped to single digits and I survived with layers of clothes. I figured I could handle early spring in Korea. Nah! If only I brought enough coats and jackets! I brought only 1 coat! Talk about traveling light! But I am a trooper so I just winged it and still had fun.
Our spirits were still up while waiting for our hotel room assignment. Gail's mom and her mom's friend also traveled with us.
The room was clean and the bed was comfy. We had a heated toilet with a bidet that worked with only a push of a button! No more tabo (dipper)!
We woke up to this view. We were near some port area near the Yellow Sea.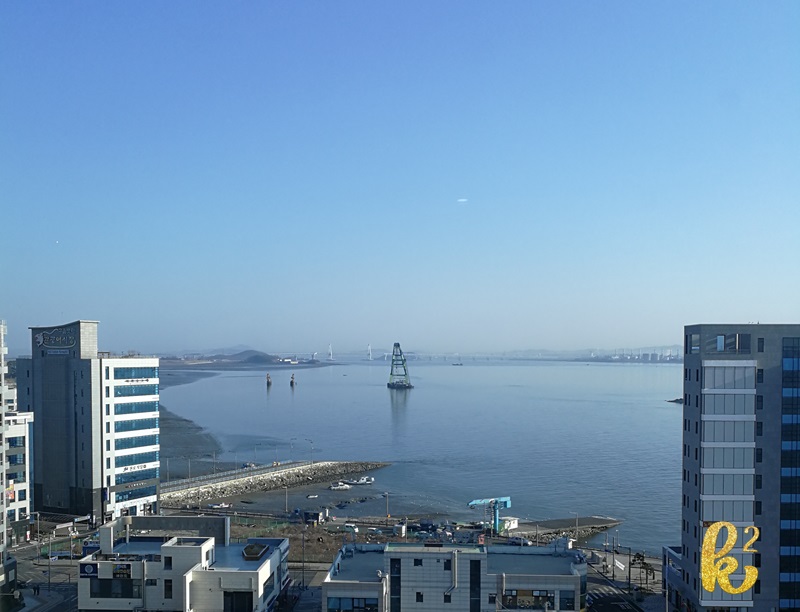 But not for long! We were off to Nami Island for sightseeing.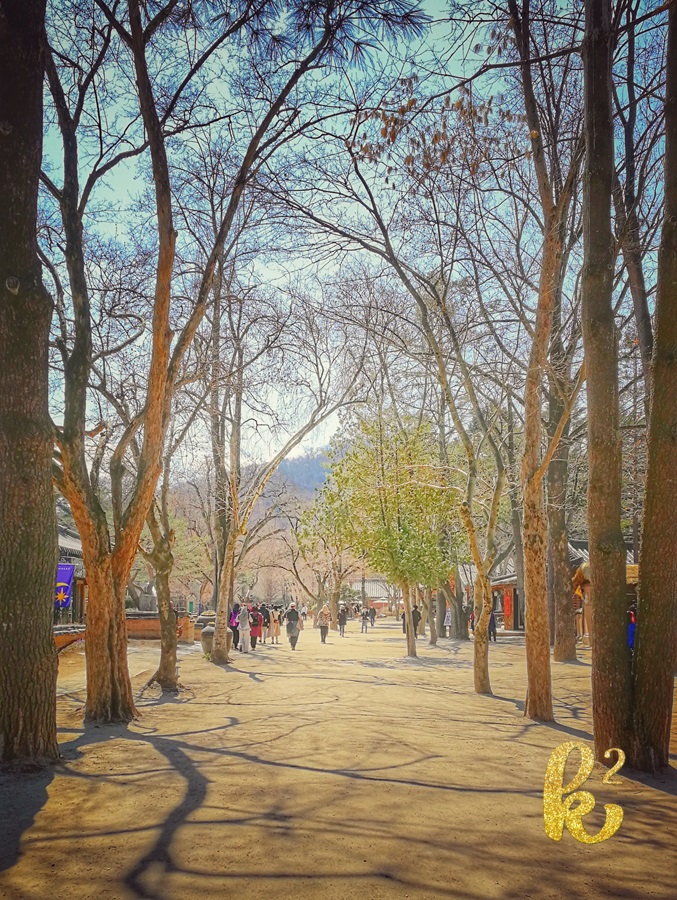 Nami Island is popular with Filipinos because it was the backdrop of 'Winter Sonata', a K-drama shown in the Philippines. I have only watched 4 K-dramas so far. Three of which I watched in the early 2000s and I hardly remember the scenes so everything is new to me.
We found cherry blossoms in Nami Island!
The advantage of having a package tour is that you do not have to worry about meals (except for 2 dinners and 1 lunch). There was buffet breakfast every day. And lunch was also arranged. These were our meals during the entire tour.
We made a quick stop at the Soyang River Skywalk.
We also visited the Sokcho Fish Market.
We made a quick photo session with the cherry blossoms lining the streets because we almost forgot them when we spent some time inside the market.
Oh we bought fresh strawberries and our guide gave us face masks so we used them that night at the hotel. We stayed in a new accommodation nearer to the Seorak mountain, where we were off the next day.
The Seorak mountain range was magnificent!!!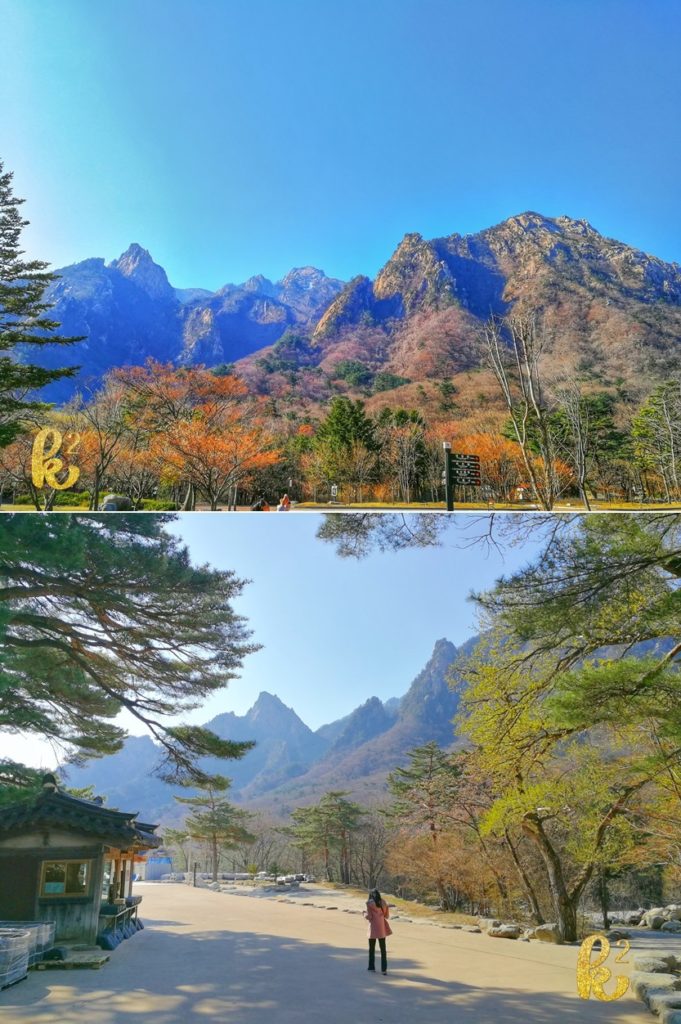 We did not find cherry blossoms there but there were pretty magnolias.
Look at all those tourist buses!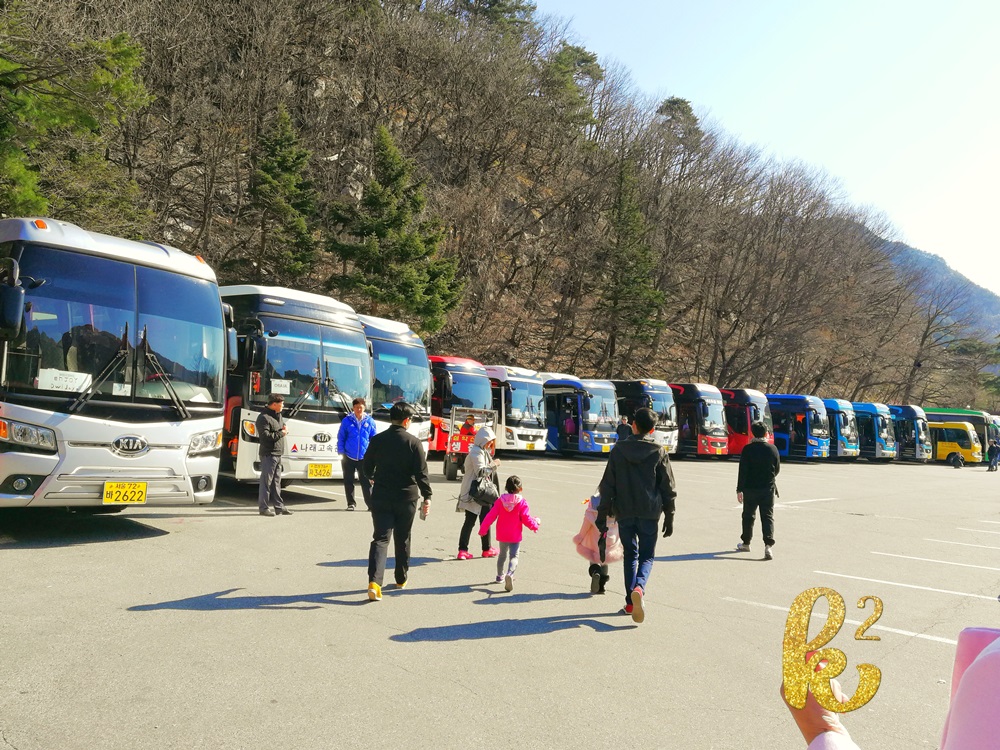 The guide, Mr Park, showed us where we should take pictures with the cherry blossoms. They lined along the highway going to the Seorak mountain.
And so we took a lot of photos.
This was a dream come true for me!
Next stop was Everland. Our guide called it the 2nd best theme park in the world. It was the Korean version of Disneyland. Because we had only a few hours to spare here we quickly searched for the Four Seasons garden after having lunch.
Look at all these tulips!
We also went to a safari ride where the bus went near tigers, lions and brown bears.
We rode the sky gondola ( I forgot what it was called) and the cable car.
And off we went to Seoul! I took of this cherry blossom while on the tour bus.
Our first stop on our 3rd day of the trip was the ginseng museum.
I did not know that it takes 6 years for ginseng to mature and, after harvesting, the land where it was planted on would not be used for 10 years because the ginseng already absorbed all the nutrients. Thus, the Korean ginseng they were showing us was very expensive – top of the line. It was supposed to prevent/cure many diseases. I already forgot what ginseng does. All I know is that it is good for the body. My thoughts were on the price- around 200 thousand pesos for the premium one. The cheapest was around 35 thousand pesos, I think. I still cannot afford. Ha!
As part of the tour, we were also toured to the red pine tree shop that sold some medicines and the cosmetics duty-free. The back of my hand was so smooth after trying Korean skincare! As much as I would love to have those products they were demonstrating to us, they were way beyond my budget. I only bought face masks at the cosmetic duty free. I think that if we had done the DIY route, we could have visited other tourists spots instead of these shops. I was not built for shopping but it was an interesting tour nevertheless.
We visited the National Folk Museum. We learned about their culture and traditions.
We saw some cute girls in hanbok.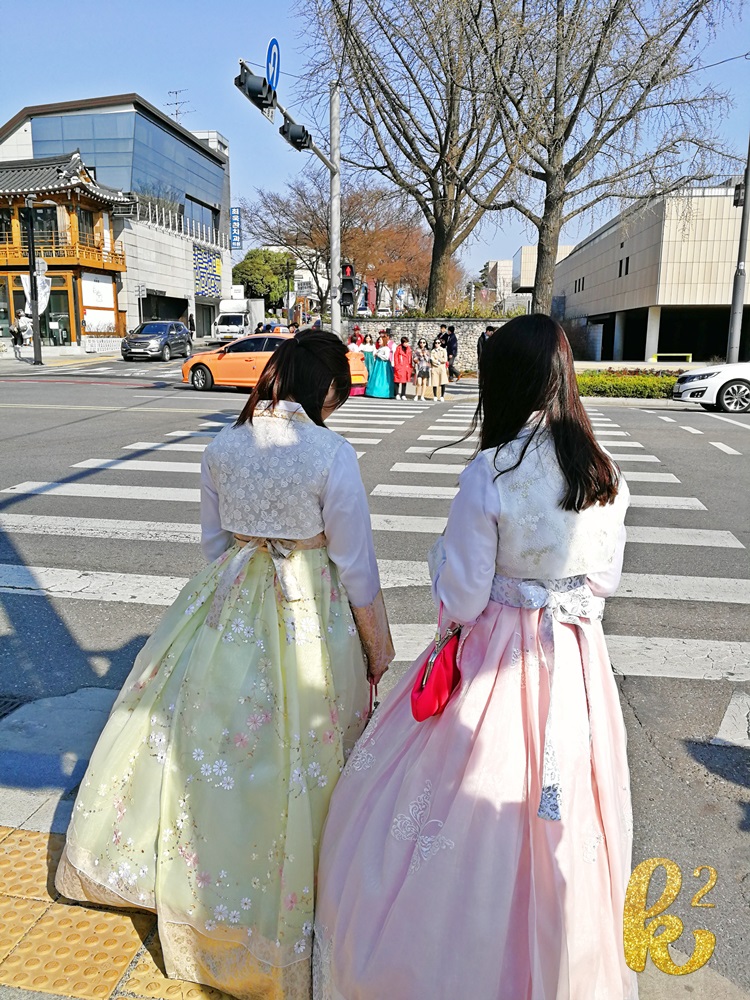 We hung out at the Cheonggyecheon stream. We ate some Korean street food. We did not stay longer because it was sooo cold.
There was supposed to be a nearby monument of King Sejong, who invented the Korean characters but it was too cold to walk towards the monument so we went to the mall where there was ample heating. Ha!
Night time was free time. It was also the time we planned to meet our high school friends. Since we were staying in Myeongdong area and it was more than an hour before our agreed meetup with friends, we decided to visit the Myeongdong Cathedral first. It was beautiful.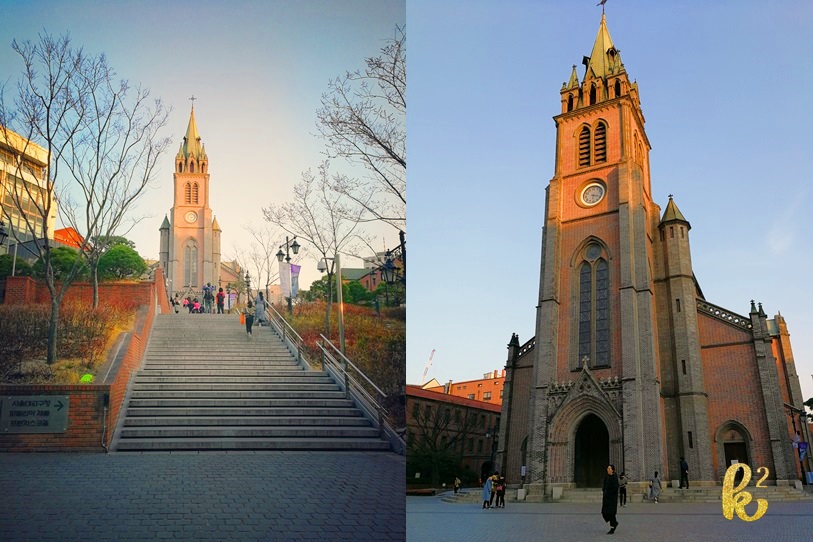 We were able to catch the end part of a mass. It was in Korean though. It was still early so we decided that we roamed a little in Myeondong shopping area. Gail and I walked ahead while her mom and her mom's followed behind. There were crowds and crowds of shoppers and when we glanced at them, we lost them. What supposed to be a leisurely stroll turned into a manhunt!!! Ha! We retraced our steps and we did not find them. We went back to the hotel and found our high school friends waiting for us. We told them about losing Gail's mom and we got them involved in the search. Still, we did not find them. We just decided that we eat dinner and hoped that Gail's mom and her mom's friend would find their way back to the hotel.
We walked back to the hotel after dinner and Gail found her mom in her hotel room. I could hear myself sigh in relief.
This was a memorable night! Glad to see you, Popay and Clint! Thank you for enduring the search!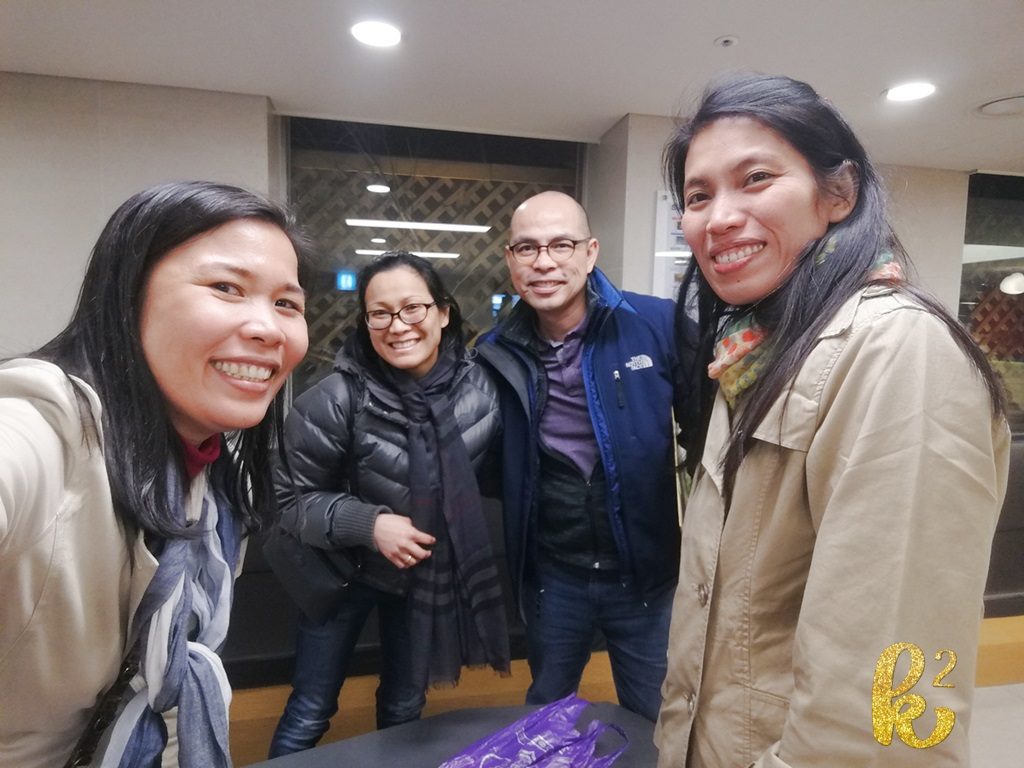 On our last day in South Korea, we went to the Namsan tower.
We can actually see the tower when we went to the rooftop of our hotel.
It was grand up close especially with the canopy of trees.
There is a wide open area on top where we could see the Seoul skyline.
We also went to Deoksugung Palace. Many Korean dramas were filmed here but my only concern was to have a photo with the cherry blossoms here.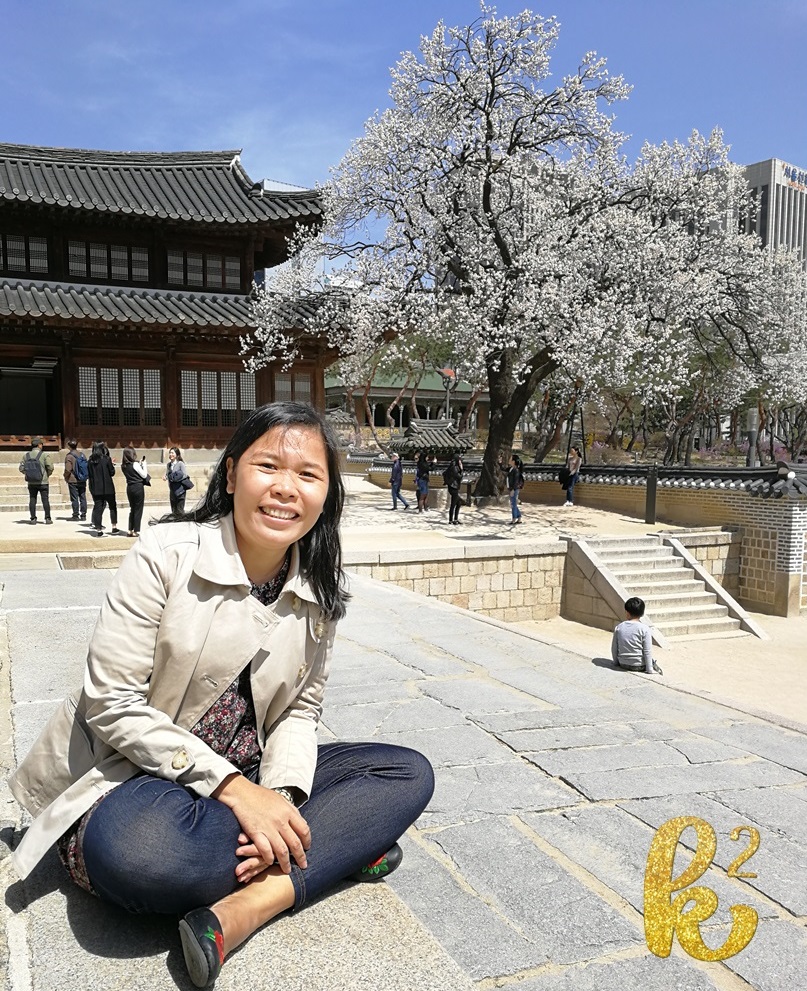 And here, too. So pretty!!!
This was the grandest one I have seen in this trip.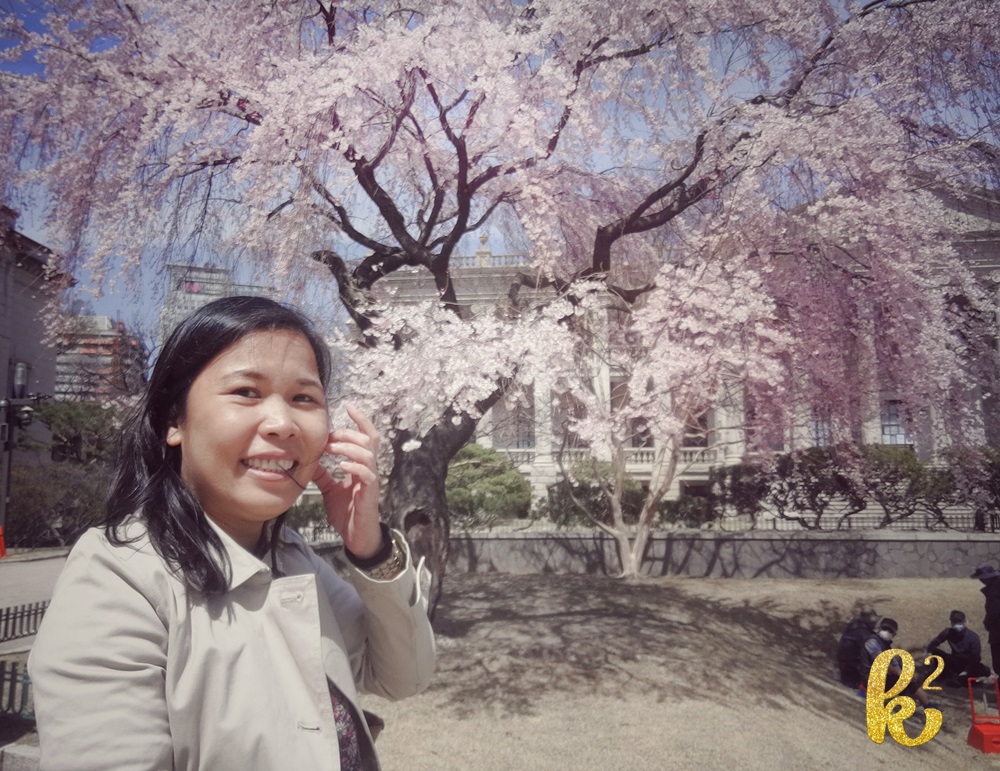 We also went to the seaweed museum where we learned how to make gimbap.
Of course, I also got to wear the hanbok, a traditional Korean dress.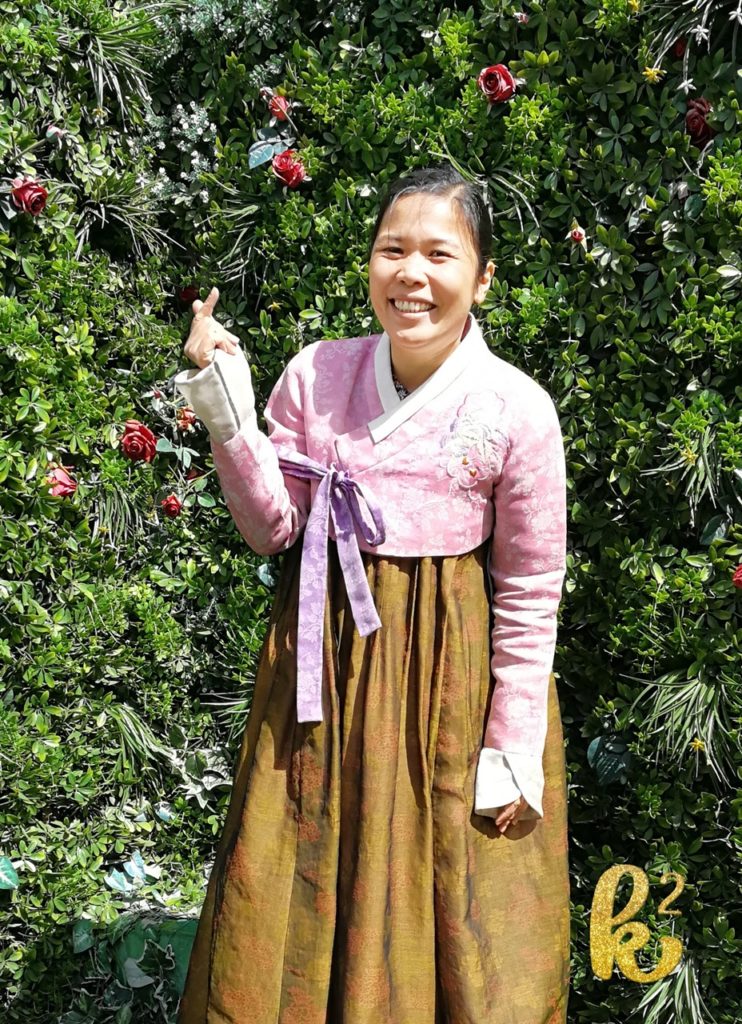 Last stop was outlet shopping. Since shopping was not in my list, we just hung out with our LINE friends. I actually use LINE to chat with some of my friends.
And just like that, the vacation ended. We said goodbye to our tour guide, Mr. Park. He could already go home to his family after spending the week touring us around.
Kamsahamnida, South Korea!
The compilation of the videos I took during the trip is now up on my YouTube channel.