The pandemic really intensified my introversion but after nursing a cough in January and trying to isolate for long periods, I missed the outside world. I have slowly eased into going out and seeing people.
What better way to lure me out of my cave than the prospect of food. We went out to buy durian!
I had also a long overdue spa treatment with Mitzi . We went to eat arroz caldo and takoyaki at our favorite place after.
Lani came to cook us buntaa, a Butuanon crab dish.
I went out with friends to check out Malihao Forest in Bonbon.
I finally went out on Valentine's day! Not on a date, though. Ha! Our friend got married on Valentine's day and it was also a time for me to catch up with these group of friends since I have not seen them in almost a year.
We also continued the catching up until dinner because one friend did not prepare his shoes (please explain, Yoshi) for the wedding and missed the event. Another friend also only learned about it the night before and it was too late for him to file for leave from work so we met him after work.
My friend, Wilbert, was in town. Mitzi and Dinah wanted to show him what is in Claveria and I have not been there so I tagged along. Claveria is a beautiful mountain town in Misamis Oriental with Mt Balatukan mountain range as its hidden gem. There were different developments sprouting in the area- coffee shops, accommodations, gardens. I hope the people in the area benefit most in these developments and that the environmental impact of these developments was being thoughtfully considered.
Although it seems like everything's back to normal, I do not go out every day. Much of my time is spent at home. Planning my next art piece, practicing some painting techniques and working on projects took much of my time. I have errands to run and bills to pay.
There are days that I leave my schedule open and let spontaneity carry the day. I have three stories to tell because I like to remember them and process what happened at the same time. Three characters from the three different stories have told me, "You better write about this day." Flattered that they wanted to be exposed (hahaha) in my little space in the internet, here I am scrambling my memory of the moments.
Story Number 1: Gatecrashing
One fine Sunday morning, my cousin Azenith bombarded our family group chat with photos of food that she cooked since she would be having guests for lunch. They looked yummy but I did not insist going because the food may not be enough for her guests. Her brother, Arvin, thought otherwise. As I was about to change to my house clothes after attending Sunday mass, he convinced me to go to Doongan and just hang out in their brother's home (Alan) which is beside Azenith's home and bond with the niece and nephew. It was a spur of the moment notice. He said we would just surprise them. I just came from Sunday mass and in my Sunday dress. Off I went with Arvin.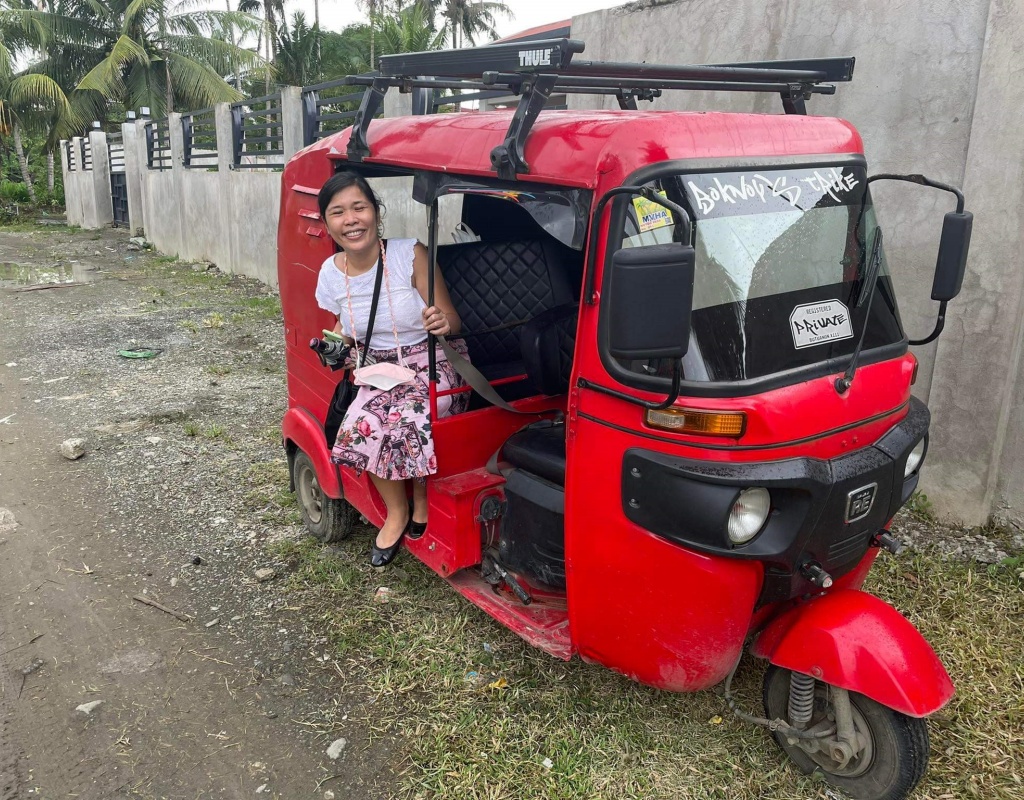 And we were met with a surprise indeed.
The house was locked. The family went to the mall. Here I am sitting outside their house.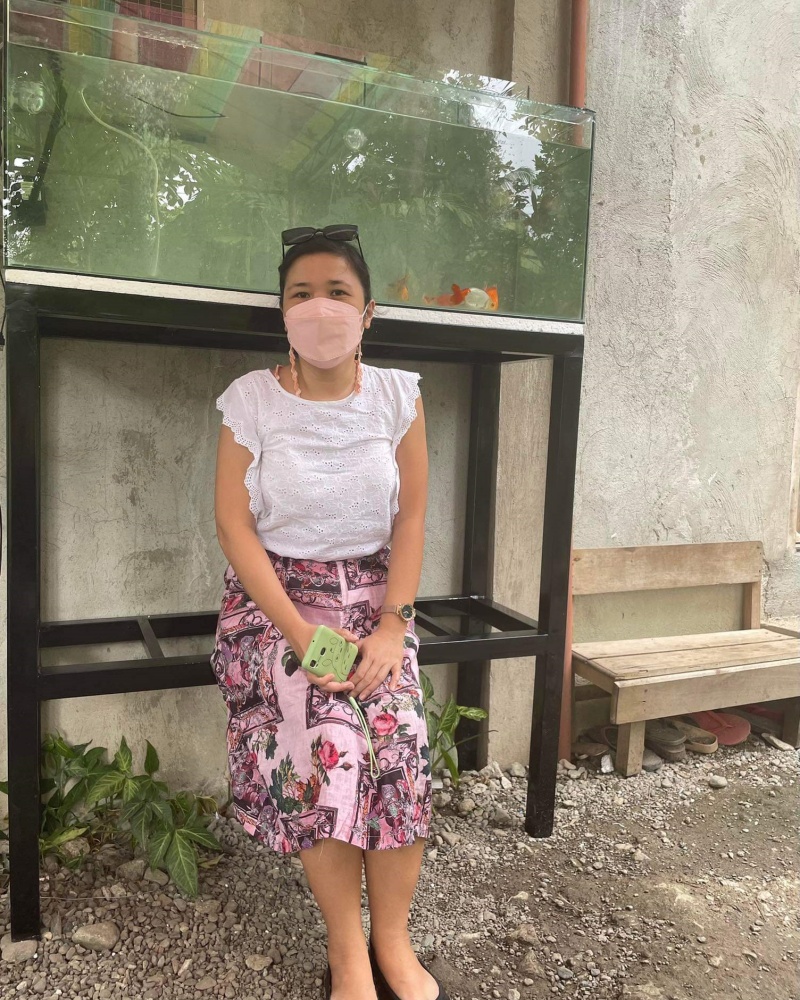 And it was raining. Such was our luck!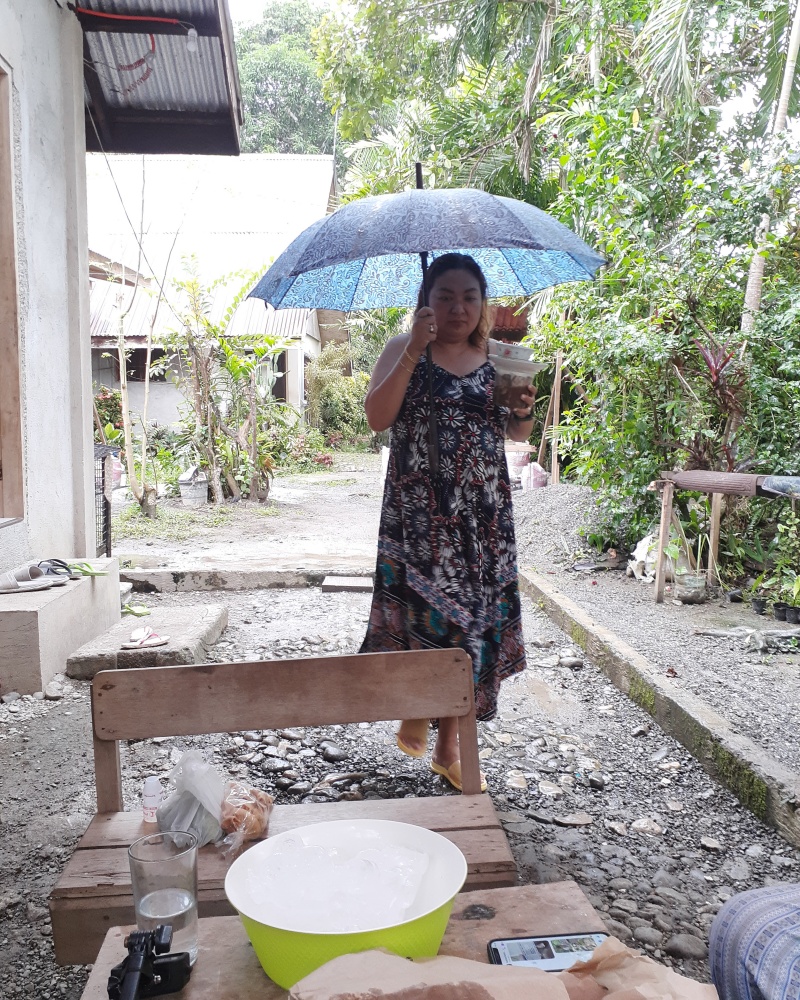 Azenith brought us food and we ate at the makeshift table and chairs outside the house. We looked like those uninvited party guests who were given food outside the venue. It was worth all the trouble because she gave me the best part of the dish.
This is paksiw ng mata ng isda. Paksiw is a vinegar-based Filipino dish. Mata ng isda is eye of a fish. I know it might be weird for some but I love these kinds of food- fish eyes, fish roe, pork and chicken innards, balut, chicken feet, etc.
The family came home after a few hours and they still caught up on us eating the food. They brought more food!
My niece showed me the toy her kuya got from the arcade game.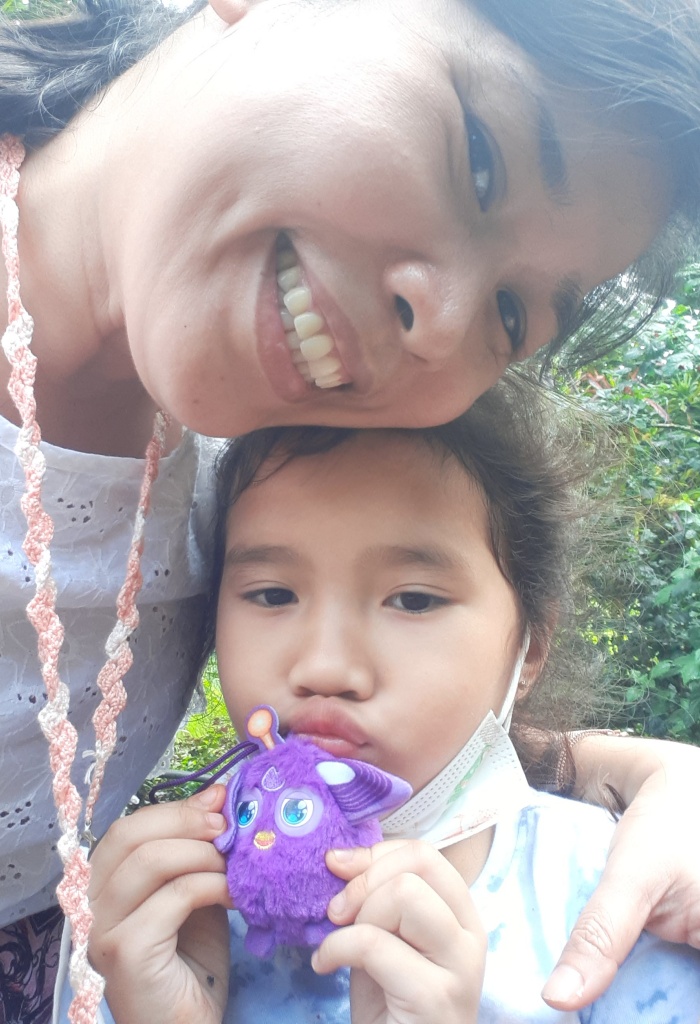 Hugs to the chef!
Mission accomplished! We achieve what we intended to do: eat well.
Story number 2: My much-loved umbrella.
I do most of my errands in the middle of the week. I avoid crowds and lines. It was an early Wednesday afternoon. I already finished my tasks for that day and I decided to drop by favorite takoyaki place for some food to go. It was past 1 PM and the place was almost empty except for these two! This was completely a chance encounter with Mitzi and Erns. (Oh, it was Ash Wednesday).
Both were almost done with their tasks for the day, too. We decided we hang out and catch up with our lives. It had been awhile since we last had a chitchat. We dropped by a bit at Erns office as she had some things to finish and we found another friend, Eulyn, there. She planned to go to a home store to check out some items for her house. We tagged along with her.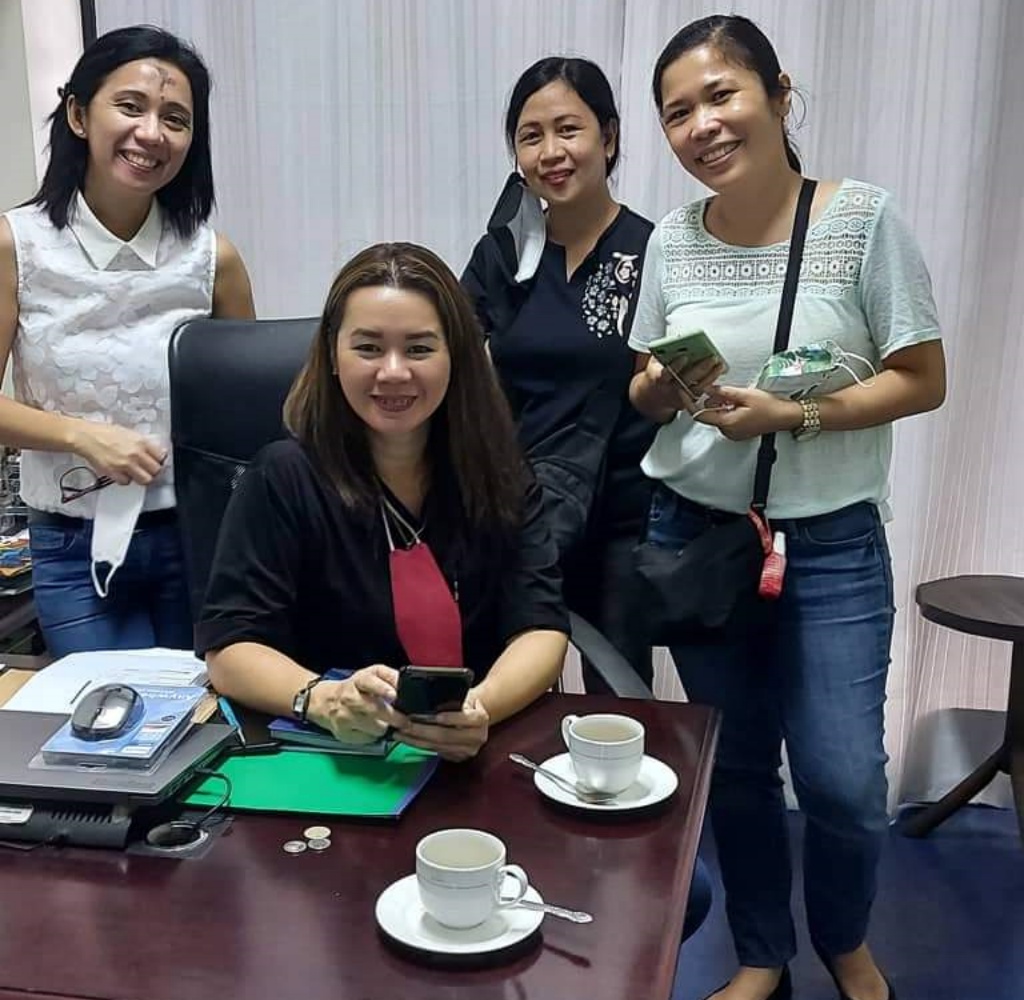 This is Erns trying to show stuff to Eulyn.
This is Mitzi and I just hanging out in one of the areas in the home store.
We went to the mall after.
We passed by some wall installation and had to take some photos.
We had dinner. Mitzi and Erns wanted to get a massage and I am not a massage kind of person so I went to the grocery while they were getting massages.
I was in the grocery when I realized I was no longer holding my umbrella. I know I had it when we had dinner because we used it to reserve seats. I was trying to think where I could have left it. I was buying takeout food when I got a text from Erns asking where I am. I had to asked her if they have my umbrella.
Translation: Hey, you guys got my umbrella. I am no longer holding an umbrella.
I sounded like I accused them of getting my umbrella. haha I missed the punctuation. The tone changed. If I had the question mark at the end, the translation would have been: "Hey, did you guys get my umbrella? I am no longer holding an umbrella." I was thinking that Mitzi might have picked it up mistakenly. She was carrying a large bag. Hehehe
I suddenly remembered where I left it. I went to the rest room before going to the grocery and hanged it on a hook inside the cubicle door. I forgot to bring it when I finished using the toilet.
Just a little senior moment for me.
Later that night, when Erns sent photos from her phone, I got a reminder on how the day went. That is my umbrella. Hahaha!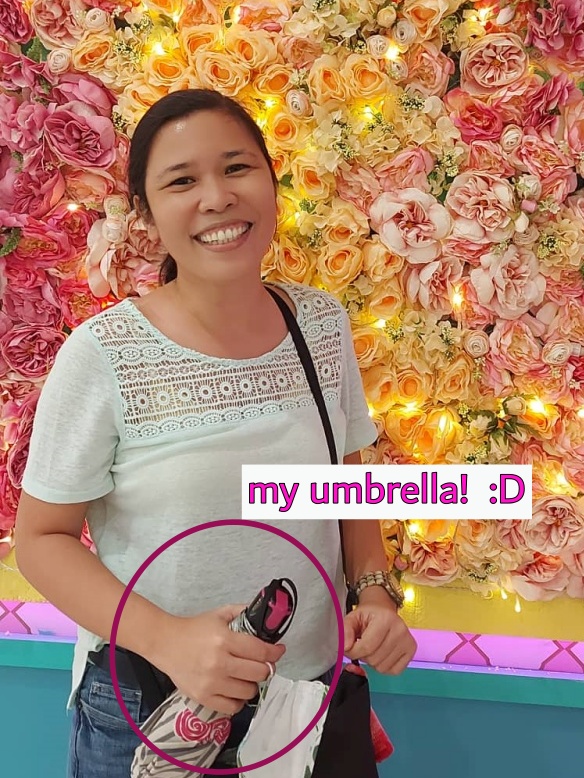 Story number 3: Millennial bonding!
Tell me who your friends are and I will tell you who you are. My friends are these young people so who am I? A young person, of course! Truth be told, by the time I get my 20% discount card, they will still be at the peak of their careers and in pink of health. Ha! It is a wonder how I got along with these bunch when I am almost two decades their senior. Probably we meet halfway, they are wise beyond their years while I was stuck in my juvenile self. This I am sure, we all clicked and agreed to travel to Digos one March weekend.
I think I like this kind of traveling where all I have to do is pay for my share and show up. Ha! They all did the planning. You know you are traveling with a younger generation when you are given a 2 AM call time. Ha! I really showed my age by asking if it was safe to travel that early. I know some of my peers would ask the same thing for three reasons: security concerns, sleeping time, vision. The younger ones were more adventurous and in best of health with their future ahead of them while I worry about body aches, eyebags and hunger. I brought all my snacks from my stash like a certified tita.
Three friends took turns driving and all (except me) shuffled seats whenever drivers switched. I did not get special treatment for my age but for my condition. I have motion sickness. It is easier for me to get out of the car and throw up if I am seated near the right door.
By the time we arrived at the destination (Camp Sabros), we were already hungry and headed for lunch.
While waiting for the food to be served, we got ice cream first. Ha!
Our accommodation had a nice view of Mt Apo.
Much as I would like to just stare at the mountain, time is gold. We headed to the place that allowed us to do what we wanted to do that afternoon in the Apo- Talomo mountain range- swim! Ha!
Montefrio Garden Resort has an infinity pool that had this for a view.
The water in the pool was cold! It took a while before we acclimatize to low temperature. Eventually, we were able to adjust to the cold water.
We just stayed longer in the warmer part of the pool.
After we made the most of our pool time, we headed back to Camp Sabros and just chilled (literally). We huddled together to keep warm. Ha! That second floor unit was our accommodation.
Here we are in our jammies, chitchatting before we went to bed.
Before we checked out of Camp Sabros the following day, we needed fill our memory vaults with pictures. Off we strolled around the resort.
Our next stop was Jardin de Senorita, a flower farm.
They were telling me that only I, an artist who is fond of painting flowers, would be happy in this place. I was more interested in taking as much photos of the flowers than posing for pictures.
Sadly, it rained. We only got to take fewer photos than expected.
We also went to a cactus farm.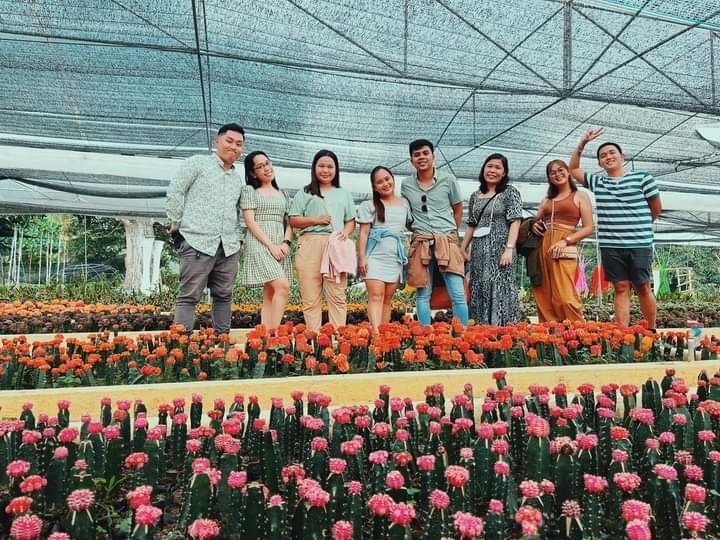 That night, we slept at the house of Pia's brother in Davao City. We had samgyupsal for dinner. By the way, Pia makes authentic (and delicious) kimchi which she learned to make from her Korean hosts when she visited South Korea. Her pickled radish (danmuji) was also yummy. (I took a break from writing this post to message her to put me on the list of her next kimchi delivery. I also egged her to make danmuji. hehehe)
Pia's brother's family lives in this beautiful house. I love the design of their house- modern, minimalist, clean. More importantly, I love how the owners were so down-to-earth, kind and accommodating (pwede daw kami balik, guys!) and even entertaining us with funny and heartwarming stories about their lives. Plus points for them, they thought I belong to their age group.
Shout out to Rotchie Glen for the photos. He made me want to work harder to be able to buy the same phone (which I know I will hesitate to buy when time comes that I will have money hahaha; I will spend it for travel instead). Because I did not use my subpar phone to take photos, I did not have photos to show my aunts where I have been so I had to nag him to send the photos immediately.
The trip recharged me from my pandemic bubble. I realized I needed that trip to reenergize my body to this new life we have after a two-year slump.
A few days after the trip, I was out swimming with my cousins, nephew and niece.
March just passed by so quickly and it felt like we were slowly getting back to our routines just like a few years ago before the world slowed down.
I was able to force myself to paint some art studies for an exhibit. I still have to do more so I can finally decide on what pieces to make.
And I painted something to give to my friend, Erns, on her 46th birthday. I painted a piece based on a photo I took of her last year. I am glad she liked it. I also painted the used gift bag to hide my name written on it. Ha!
There were gatherings that I missed. I missed a cousin's wedding ceremony and reception due to miscommunication and my introversion but I was in her virtual one. I even put on makeup. Ha! Here's the proof:
Although I did miss a few gatherings for various reasons, I know there will be more of them in the future. For the ones I did not miss, I was happy to be there. It is nice to see people again!